Restoration work quality is questioned
By Ernest Petrosyan
Thursday, July 19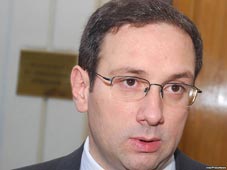 Everything repaired with Ivanishvili's funds has to be repaired again, said Culture Minister Nikoloz Rurua, in an interview with Rustavi 2 on July 17. Rurua claimed the restoration work on the State Opera and Ballet Theatre will be resuming and will be financed from the state budget.
"They believed and still believe that the opera and the ballet theatre are out of political retaliation and revenge, but if so, it is not a problem; the government will repair the Opera and Ballet Theatre as we repaired the Batumi and Kutaisi opera theatres.
With regard to all the restoration work made by Ivanishvili, including Rustaveli Theater, it has been revealed that half of its foundation is not reinforced for some completely inexplicable reason. In fact, the Rustaveli Theatre is in emergency conditions," Rurua said.
Karlo Lekveishvili, General Director of the ATU Company, which had been conducting the restoration work, said that the work was not ceased but hindered due to the seizure of the LTD Elita Burji and LDA Birji, though according to him the work is underway. According to Lekveishvili, Ruruas statements that all Ivanishvili-funded objects need any restoration are unacceptable.
"We have hundreds of objects restored and constructed and the quality is by far very high," said Lekveishvili, adding that such insult in the address of the ATU association is absolutely inadequate.
Rusua's responsive comments were due to Ivanishvili's statement during his rally in Gori on July15, where he said that restoration work on the State Opera Theatre was suspended due to seizure of "Elita Burji" accounts.
"Concert hall construction in Ureki [seaside town] was among the suspended charity restoration objects, as well as the construction of several rugby stadiums which have been stopped. The restoration of the opera theatre was underway and they [government] stopped it too," said Ivanishvili.
He claims that a unique aquarium building in Batumi was underway, but it was stopped as well as the restoration of Akaki Khorava theatre. "They care for nothing but to somehow stop Ivanishvili and the Georgian Dream. It is impossible to stop and defeat me with these methods," added Ivanishvili.
Zaal Chikobava, the Manager of the Rustaveli Theatre confirms that the theatre is in poor condition. Acording to him, there are a number of essential splits. "A few days ago, experts conducted investigations on the building and proved that it's in an emergency condition. The foundation is not properly reinforced," said Chikobava.