Move to new Kutaisi creates unforeseen challenges for many parliament employees
By Gvantsa Gabekhadze
Thursday, July 19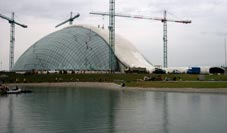 Moving of Parliament to Kutaisi has created more controversy. Opposition representatives of the parliament claim that the process of moving the parliament to Kutaisi has already caused some hardships and now a number of employees are facing unemployment.
Opposition MPs want to know why the parliament building is emptying so rapidly and so unexpectedly.
Opposition MP, Dimitri Lortkipanidze, has already demanded from the parliament speaker, Davit Bakradze,to provide an explanation concerning the issue.
"Unlike the National Movement and the parliamentary minority Christian Democrats, I am not affiliated with any political party, thus after emptying the building I will not be able to continue working and meeting citizens in a party office. So I ask Mr. Bakradze: where can I work?" Lortkipanidze stated.
He also highlighted the fact that nearly 500 out of the735 members in parliament might be left without a job. Many of the employees of parliament will not be able to go to Kutaisi and work there.
"The government is already training local cadres to work at the new parliament building in Kutaisi– especially those whose activities are connected with office and administrative work. Only important employees who are skilled in web technology will be transferred to Kutaisi," Lortkipanidze stated.
The MP named the reasons why current parliamentary staff would not be able to move to Kutaisi. "Residential [housing] will be built only for higher ranking members; as for the rest of the employees, they will have to rent flats through on their own salaries. Thus, for many, the move to Georgia's second city creates both logistical and financial problems. This is to say nothing of the challenges the people with families will face," Lortkipanidze said.
Rezonansi
newspaper reporter, Rusudan Machaidze, stated that she attended sittings at parliament on July 16, when the parliament staff was filled-in on the plans concerning the move to Kutaisi and "several of them felt bad and even fainted. Some have not yet decided whether to go or not, and some thought about making the move in November," Machaidze said.
The Head of Parliament's Public Relations Department, Maka Gigauri, does not confirm any swift move to Kutaisi until the elections are over and states that only preparation work concerning the transfer have been launched. "It is the summer period and many employees go on vacation. That is why we decided to start the activity before they leave for the vacation. We are not going to dismiss any employees. Moreover, we encourage all [current employees] to come to Kutaisi," Gigauri stated. However, it seems the government are not too worried about those people who will be left unemployed. According to Gigauri's comment to Radio Freedom, "we recommend that all come [to Kutaisi], though the final decision is of course up to them [the employee]," Gigauri said.
The concrete terms regarding the date for which the building must be emptied was also denied by Chief of Staff of the Parliament, Davit Janiashvili. According to Janiashvili, spring session is over and the staff was ordered to collect their personal belongings.
"After stating that parliament will be moved to Kutaisi, we knew that after the conclusion of the spring session, we should begin preparation for moving. It is unclear for me why the issue was taken as a surprise," Janiashvili mentioned.
Due to changes in the Georgian Constitution, parliament should be moved to Kutaisi after the parliamentary elections, which will most likely be held in October. Perhaps this explains why some feel that the moving preparations were taken as premature.