Report on child poverty raises awareness in Georgia
By Etuna Tsotniashvili
Thursday, July 19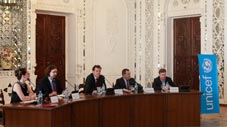 Overall poverty in Georgia has decreased, but 77, 000 children under 16 are living in extreme poverty, UNICEF says. A presentation of the UNICEF discussion paper, entitled
Georgia: Reducing Child Poverty
, was held yesterday and revealed that the number of households below the relative poverty line fell from 24 to 22 percent between 2009 and 2011.
"We have done several studies and have found that the overall situation of children really [has] improved– better health, better education and so on. Though our studies show that poverty has been reduced, including extreme poverty, there are still too many children who live in poverty," Roenald Monasch, UNICEF Representative in Georgia told
The Messenger
. "We have also found out that protection mechanisms by the government, pensions, targeted social assistance and social insurance are very powerful– especially pensions, but not enough attention is given to children. So today we are highlighting that children's poverty should also be reduced as they are the generation of the future," he added.
Monasch says that additional investment is required to protect the most vulnerable children in Georgia, and says that the primary way to address poverty is to further expand the economy with equal opportunities for all. "The tendency is going down in terms of poverty. Georgia's economy continues to grow but not everybody benefits from it. So we talk about inclusive growth so that everybody receives the benefits," he said.
"Despite the fact that the study shows positive tendencies in terms of poverty reduction in Georgia, we all know very well that a lot of families are living beyond the poverty line and they need the government's support. That is why the pensions are regularly increasing, health insurance packages are being issued and we have special programs for social protection. The study emphasizes that more attention needs to be focused on families where there are children and we the government, will do our best to find more ways in order to assist those children," Zurab Tschiaberashvili, Minister of Health told the media.
Aaron Greenberg, UNICEF Georgia Child Protection Chief says: "The government of Georgia is committed to social protection in this country. The question is how can these investments they are providing better focus on poor families who are raising children? At the moment, the vast majority of social protection goes to old people. This is fine of course and older people have a right to social protection, we are not challenging pensions, but we are saying that any new initiative has to take children into consideration. Georgia has to invest in its future."
Public Defender George Tugushi says that it is now a new fact that children are most frequently suffering from poverty. Tugushi has talked about the children living in poor conditions and highlighted that the government should carry out preventive measures to ensure them from further problems. Tugushi has stressed that these children who are those who are physically disabled. According to him, such children need a lot of attention, as this problem in most cases cause the family a financial crisis, as a result of which, children exist in poor conditions.
The discussion paper presents a range of policy options to address child poverty in the next three to five years. In all these policy options (an increase in targeted social assistance benefits, an increase in the number of targeted social assistance beneficiaries and the introduction of universal child benefits), a special focus is made on prioritizing social protection for children. The paper draws upon a larger report, the Well-Being of Children and Their Families in Georgia – Georgia Welfare Monitoring Survey Second Stage 2011, prepared in cooperation with the University of York, United Kingdom and the institute of Social Studies and Analysis of Georgia.