Charity organization puts children, elderly on top of their list
By Ernest Petrosyan
Friday, July 20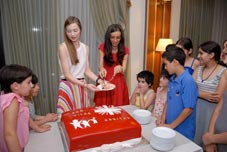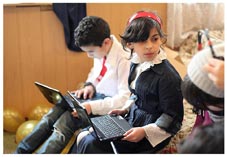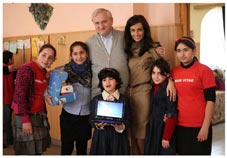 Honor Vitae, a US-based international charity organization, has launched its branch in Georgia. Its second charity action in Georgia, Honor Vitae presented laptops, as well as clothing for orphaned deprived children and the elderly at the Our House Center and later hosted them for dinner.
"We decided to take children to the mall to buy whatever they like, to somehow replace parental love and care. We will implement these charity actions on a regular basis in the future. We will assume responsibility of the education for socially vulnerable children, their healthcare and their rights," said the founder of the organization, Mariam Kinkladze.
According to her, the organization plans to build an orphanage house which house about 200, which will be further funded by Honor Vitae.
"We agreed to have a long term relationship with the children. If prior to this we have had several visits with presents, from here on out, we will launch various projects, including educational projects, which will change their lives' and provide them a better future," said co-founder Ani Amiridze.
Honor Vitae will work together with Caritas International Georgia – a Catholic Charity agency. "As a result of the negotiations, we decided that various programs will be launched for both children and the elderly. There were several charity events beforehand, and today children received laptops which I think is important in terms of their education, as well as other gifts," said Caritas Georgia representative, Witold Szulczynski.
Previously, Honor Vitae put on a Christmas charity for IDP children in the Tserovani settlement.
Obviously, for socially vulnerable orphans, a laptop computer was the most desired present. 10 year-old Beka says that it was the present he could only dream about. Like many children Beka also realizes the importance of education.
Mariam Kinkladze, who for several years has internationally been involved in philanthropic organizations, has founded the organization, which received its international status this year.
"I used to work in another non-profit organization, which was based in Austria. I helped them to build a school in Ethiopia. After spending some time in Ethiopia with the children two-years ago, I decided to establish my own non-profit organization, which gave me the possibility to raise more money in order to help more children in Georgia," said Kinkladze.