Small improvements make big difference in the regions affected by conflicts
By Etuna Tsotniashvili
Friday, July 20
Life remains difficult near the administrative boundary line with Abkhazia. Still, local residents continue to rebuild their lives.
Residents of Pakhulani in the Tsalenjikha District – the last village before the conflict divide, never thought of moving to another place. Instead, they focus on rebuilding the lost trust and confidence.
Liana Apakidze, 66, has been working in the Pakhulani kindergarten for 43 years now. Lack of maintenance for the last decades made the building almost completely unusable and about to collapse. But children kept coming from both sides and Liana never abandoned her duties maintaining respect and admiration of children, parents and local residents.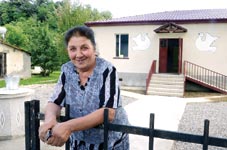 Apakidze's hard work and dedication paid off, and now she is a proud director of a modern, newly constructed kindergarten. She says that her dream came true after so many years. Most important is that children can now attend their classes in a comfortable and safe environment.
The Pakhulani kindergarten was rehabilitated when the UN Development Programme (UNDP) with funds from the government of Norway, supported several community initiatives in the region. At the community meeting, the village unanimously voted for the new kindergarten. UNDP, with co-funding from the local municipality (the overall budget is [GEL] 116, 000, out of which [GEL] 42, 000 was covered by the local government), organized the construction, which was successfully completed in June 2012. The new building will welcome more than 50 kids in September.
The interest in the new school is so high that some children will even travel several kilometres to attend– including those who pass the administrative boundary line. The overall number of those children is not high but the interest increases daily.
"We try to create a comfortable place for children to learn. That is why many families want their children to attend our kindergarten. We received many applications this summer and now are faced with the challenge to meet the increased demand. This building is not large enough to accept all the applicants but we always try to accommodate those who are coming from the Abkhaz side," Apakidze told The Messenger, adding that more than 10 children from Abkhazia will join the kindergarten in September.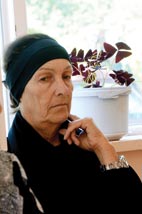 Nineli Kvirkvelia, 60, is a history teacher at the Pakhulani public school. She lives in Saberio, on the other side of the conflict divide, and has to travel several kilometres to teach her classes. "We have a kindergarten there [Abkhazia] but learning is in Russian. I decided to send my grandchildren to the school in Pakhulani where a new kindergarten has been built. My grandchildren and their friends like it a lot," she said.
Kvirkvelia explains that as they grow her grandchildren will be attending a Georgian school too.
"Russian guards know me; they know I am a teacher in that school and so they let me cross and take the children along. A school bus is waiting for us on the Georgian side and takes us to the school," she says, adding that her neighbors would also like to send their children to Georgian schools but they are afraid of the difficulties while crossing the administrative line.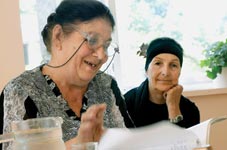 Those from the Abkhaz side can also benefit from dental services provided in Pakhulani. People queue up at the entrance of a dental office waiting for the young doctor's help. Thirty-two year-old Nana Shonia is the only dentist in Pakhulani and two nearby villages.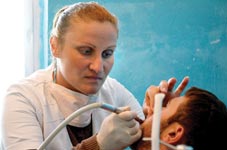 After graduating from the local high school in Pakhulani, Nana continued her studies in Tbilisi, in one of the medical universities. She came back home in 2009 and opened a small dental office despite the troubles with old equipment and expensive medicines. At first she thought her business would not be successful. But in 2011, when UNDP introduced consultation services for small businesses in the region, Nana received her first loan from one of the microfinance institutions and purchased a new dental chair. As her income increased, she decided to continue her studies and raise her professional qualifications.
"People come from both sides and I do my best to serve them. If I had a chance I would have worked in Abkhazia with pleasure but it is not possible today."
Nana thinks about expanding her practice, improving quality and raising professional standards. She sets prices according to the local living standards and is happy with her monthly income. Three people are employed in her small clinic and the average monthly income is about GEL 800.
"I did not know how to handle loans and couldn't risk dealing with the banks. The consultants at the business centre helped me to become more confident. The quality of my work improved and the number of patients has already increased," Nana says.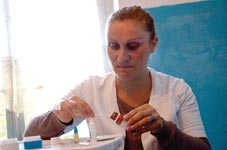 Seven community initiatives have been accomplished in Samegrelo with UNDP assistance and another six will begin in July, 2012. The local authorities of Khobi, Senaki, Tsalenjikha and Poti City have contributed from 25 to 45 per cent of the total budget to each of the projects, including the repairing of the water supply system in three municipalities and the rehabilitation of kindergartens and sport grounds in the villages.
More than 80 thousand people in Samegrelo benefitted from this programme. For many this was the way to escape the lingering sense of insecurity and take the future into their hands.