Majoritarian candidates named for opposition
By Gvantsa Gabekhadze
Friday, July 20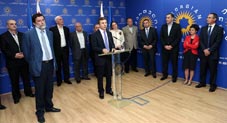 The Georgian Dream named its majoritarian candidates for all majoritarian districts of Tbilisi– 10 districts and 6 regional candidates on July 19.
Many of the candidates named are deeply related with politics. However, part of them are from non-political fields.
The candidates are: Zaza Papuashvili –Mtratsminda District; Shalva Shavgulidze-Vake, Davit Usupashvili-Saburtalo, Shota Khabareli-Krtsanisi, Nukri Kantaria-Isani; Zurab Abashidze-Samgori , Vikror Dolidze-Chughureti, Vakhtang Khmaladze-Didube, Tea Tsulukiani-Nadzaladevi and Soso Jachvliani-Gldani.
As for the regions, Tina Khidasheli, one of the leaders of Republican Party, has been represented in Sagarejo; Malkhaz Tsereteli-Chiatura; Nika Sanodze-Khoni, Murtaz Khurtsilava-Martvili; Giorgi Nachkebia-Tsalenjikha, Davit Darakhvelidze-Ambrolauri.
As the chair of opposition coalition Georgian Dream, Bidzina Ivanishvili underscored that the candidates of five more regions would be named in the coming days.
Majoritarian candidates have also been named by the Chair of the non-parliamentary opposition, New Rights, Davit Gamkrelidze, on the same day. However, the party paid more attention to the Adjara region. According to Gamkrelidze, the Adjara Supreme Council's elections are as important for his party as the upcoming parliamentary elections in the country.
"The first number of the partial list will be Paata Mgeladze, who has been in politics since 1989 and is very well aware of regional issues," Gamkrelidze said.
As for the rest of the candidates, they include: Khatuna Kakhadze in Kobuleti, Davit Tavartkiladze in Khulo, Ioseb Davitidze in Shuakhevi, Gela Gorgiladze in Keda and Temur Kidzinidze in Khelvachauri.
According to Gamkrelidze, all majoritarian candidates named by the party have an interesting biography and appropriate experience.
It should also be noted that the ruling party is not "in a hurry" to name majoritarian candidates. Several analysts mention that the National Movement is waiting for their opponents to name theirs before naming their own. This is done in order to name a stronger candidate when the time comes.
As political analyst, Demur Giorkhelidze told
The Messenger
, the principle of choosing majoritarian candidates might not be correct. "I do not think illusion is a reliable object in politics," Giorkhelidze stated.
The analyst does not exclude the possibility that sympathy concerning a party might influence the voting for some candidates. "However, personal sympathy-antipathy plays a serious role- especially in the regions. At the same time, authorities will try to name respectable candidates in all districts. Thus, I do not believe partial sympathy will play a key role during the voting process," the analyst said, adding that Georgia could not give up the naming of non-politicians to political positions. "Actors and athletes are really brilliant people. However, they have no connection with politics. The country should be ruled by well-organized political forces and not by several people surrounded with an entourage…of course the opposition should be careful while choosing the candidates. However, the ruling power will not be calm while thinking about their majoritarian candidates… the process will be hard for them as well," Giorkhelidze said.