Organizers form protest rallies on behalf of Maestro TV
By Ernest Petrosyan
Thursday, July 26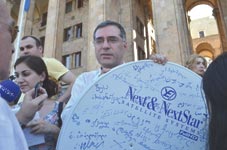 Georgian media representatives, civil society representatives and ordinary citizens held the second rally in support of Maestro TV, demanding that the prosecutor's office discontinue the politically motivated seizure of satellite dishes, which were distributed throughout the regions to enlarge Maestro's broadcasting area.
"Protests in support of Maestro will be regular exercises, and will last as long as the television's property is not returned and justice is restored," said
Rezonansi
newspaper Editor-in Chief Lasha Tughushi.
"We have started talks with embassies and international organizations, and we will continue to do so. Democracy and human rights are not issues which should be resolved within the boundaries of one country," said Tughushi expressing hope that foreign influence would be productive.
Liberali Journal
editor Shorena Shaverdashvili said that they will start meeting government representatives in the case they do not receive a response from the prosecutor's office.
"We are going to work on a daily bases. We are not going to wait until the elections are over. We will apply all methods to influence the government's political will. This is not a legal issue; this is a political issue. As the seizure was a political will, the withdrawal of it will be also political," said Shaverdashvili.
During the protest rally people symbolically left their signatures on one of the satellite dishes which later was sent to the president's administration palace, as according to Tughushi, Georgia has a shortage of satellite dishes and president might need one.