Saakashvili addresses storm affected population
By Salome Modebadze
Friday, July 27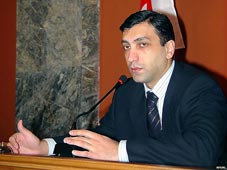 Former Chairman of the State Audit Office (SAO), Levan Bezhashvili, became the personal representative of the Georgian President in Kakheti in east Georgia. President Mikheil Saakashvili expressed his respect towards Bezhashvili for his "brave action" as the latter left his high state position to assist his native region.
President Saakashvili asked Bezhashvili to chair the coordination staff of the Kakheti restoration and rehabilitation dealing with the post-storm damages. Saakashvili could not recall such large scale destruction in Georgia. He said Bezhashvili has great experience in effective management of state resources as the former Auditor-General and would better deal with the activities aimed at addressing the damage in Kakheti.
Bezhashvili said he is ready to participate in the post-storm activities and to assist people. He said the entire damage in the region has been studied; over 25% of houses still need rehabilitation but new building companies are joining the activities every day.
Saakashvili said that after mending the roofs, Kakheti should prepare for the vintage as there are some vineyards that survived the rainstorm. The president said that farmers will get new seeds so that they can have a better harvest next year and cover the bank credits postponed by the state for a year.
He said if such a disaster would have happened 5-6 years ago, nothing would have been left in the country because physically, there was not a large-scale labor force available– especially during the previous governments. "Of course it would be better if such a disaster did not happen to us, but I think people have seen how effective the government is," Saakashvili said, promising that each and every family affected by the rainstorm will receive state compensation in Kakheti, Samtskhe-Javakheti and Mtskketa-Mtianeti.
Visiting Telavi with the President on July 26, Tbilisi Mayor Gigi Ugulava said that from September, 2012, Sunday agricultural fairs will welcome the farmers to sell their products in the capital of Tbilisi. Saakashvili emphasized the role of the Mayor's cleaning service in post-storm rehabilitation activities and opened a children's playground financed by the Mayor's Office.
Saakashvili said people can fully trust the government because the state has taken obligations over the affected families. But Vera Kobiashvili, a single mother living with her small child in Telavi, told the president that no one has visited her during the past days after the rainstorm neither to mend her roof nor to count the damage. She said the children's ground was built to show "how happy" they are but in vain. Asking Saakashvili why they need such playgrounds when they still have no roofs, she was told that 1\3 of the houses still need restoration and the brigades will go everywhere. "Do not worry, I told you beforehand that everything will be done," President Saakashvili stated.