New amendments create vague bank seizure rules
By Ernest Petrosyan
Monday, July 30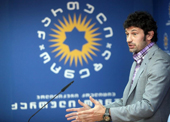 The Georgian prosecutor's office continues to press opposition representatives on the grounds of allegations and "reasonable" doubts. A few days ago, Georgian bank accounts of already retired football player Kakha Kaladze, who is running for a seat in parliament as a majoritarian MP for the Bidzina Ivanishvili-led Georgian Dream in the Samtredia region, have been frozen as a part of the ongoing investigation into the "alleged legalization of illegal income i.e. money laundering," the Georgian chief prosecutor's office said on July 27.
According to statements made by the chief prosecutor's office on July 27, Kaladze "in a short period of time" received $6 million in his bank account and then withdrew in cash a total of $1.6 million.
"As there is no evidence of depositing the funds in another financial institution or using it for a legitimate transaction, the operation qualifies as suspicious under Georgian and international standards," the chief prosecutor's office said.
"Therefore, the relevant authorities are obligated by both Georgian anti money-laundering legislation and the international treaties and other binding international standards to investigate the suspicious transaction involving a large amount of cash ($1.6 million) and freeze the accounts before the investigation is completed," it said
Kaladze's lawyers claim that the court's July 26 decision to freeze accounts in three various banks was unjustified; the ruling has been appealed to a higher court.
Kaladze, the former Georgian National Team Capitan and two time winner of the Champions League with AC Milan, is running as a majoritarian MP candidate in his native Samtredia, in western Georgia, where according to the National Movement surveys he has highest polls.
The prosecutor's office oppression campaign was not limited to freezing only Kaladze's bank accounts. According to the media, bank accounts of Georgian Dream Lanchkhuti 4 activists and up to15 members involved in the door-to-door registration campaign, as well as accounts of 4 activists in Zugdidi have been sequestered.
The grounds, evidence and justification for the seizure of account holders is not yet known.
The Georgian Young Lawyers' Association expressed its readiness to provide free legal assistance to all those people whose accounts have been seized.
Furthermore, the implications of the seizure might be even more severe. The July 12 amendment to the criminal code envisages either three years of imprisonment or a monetary penalty imposed to the aforementioned persons whose accounts are sequestered. Lawyers believe that this amendment gives ground for different interpretations, as the amendment considers the possibility to set an additional punishment for voicing information of already punished individuals.
More specifically, the amendment of the Georgian criminal procedural code reads that disclosure of seizure-related investigation information by a seized account owner is punished by fine or imprisonment up to 3 years.
Rather, lawyers believe that this amendment allows for different interpretations and may have already been punished by the government seizure of property for additional information.
More specifically, under the Criminal Procedure Code, the owner of the affected bank account shall be punishable by fine or imprisonment of up to three years.
"The problem is that this article does not mention or take into consideration the subjects' circle that can also cause the release of this information. This is a restriction that applies to all, and therefore requires a high standard of evidence. As for those who are warned that they are not to disseminate such information, for example, bank employees, in such a case, of course, there may be a legitimate request for investigative actions of interest," said Verdzuli.
"We do not know how this article will work in practice. Last time, a lot of information was covered, even by the journalists of this or that person's accounts or property seizure, and yet - there are no steps made in regard of this norm," added Verdzeuli.