Ivanishvili addresses Svaneti people
By Salome Modebadze
Monday, July 30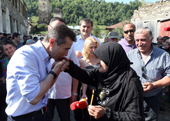 We are not afraid of questions, Georgian Dream leader Bidzina Ivanishvili told the Svans on July 27. During the opening of the Georgian Dream's regional office in Mestia, Ivanishvili shared his opinions about his election campaign. He said the program aims at repairing and rehabilitating the infrastructure in the high mountainous villages in this region. He plans to allocate funds for each and every municipality so that local farmers can use that money to cultivate their lands.
Emphasizing that Svaneti is one of the ancient traditional regions in Georgia, Ivanishvili worried that the majority of Svan people have left their homes due to "hard living conditions." However, he said that immediately following the Georgian Dream's success in the soon approaching parliamentary elections, the law on high mountainous regions will come to power so that the centre would assist the villages "without reproach."
Ivanishvili said the state should not only be helping people before or after elections but all the time. He said the Svan people who have received their traditional Svan towers from their ancestors as heritage, should not have to register their property. He said if the Georgian Dream wins the elections this October; the country will have a "public government" that will serve the people not the other way around.
"Economics is not one-tenth of what it should be," Ivanishvili said, stressing that the market should be competitive in order to function well. He said that nowadays business is distributed among the small government groups against "the rules of economy." Ivanishvili also stated that construction activities are not the state's business but the responsibility of private companies, while the governments should simply create "normal laws."
A group of ruling United National Movement (UNM) supporters gathered opposite the Georgian Dream office shouting "Misha, Misha!" Although they claimed they were all locals, in video footage released by the media, some of them clearly possessed a typical Megrelian dialect. A local Svan man said they were brought by buses.
On his way through the various villages, Ivanishvili was met by other groups of opponents. Welcoming diverse opinions he recommended that they not assault each other. "Criticism from opponents is necessary," he said.
Denying any contacts with Russia he said the country should not have to rely on other states and promised that the Georgian Dream would built an economy where everyone would have the chance to live a good life.
Ivanishvili explained that no one can change Georgia's geographic borders. He went on to say that while Europe remains a priority, Georgia should maintain good relations with its northern neighbor and Europe without sacrificing one over the other. However, he pointed out that everything was possible by setting out on a smart political course.