Unknown men harass journalist
By Messenger Staff
Tuesday, July 31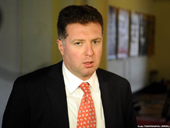 On July 30, Public Defender George Tughushi, called on the Prosecutor General of Georgia to launch an investigation into the blackmail case of Channel 9 journalist, Nodar Chachua.
Last week, the media reported that TV Reporter of Channel 9, Nodar Chachua, accused three armed men in civil uniforms of harassment. Having introduced themselves as representatives of an unfamiliar agency, the three men offered money in return for everyday information about the TV station owned by Bidzina Ivanishvili's wife and the activities of Ivanishvili's Georgian Dream political coalition. As soon as this information was released, representatives of the Public Defender office met with Chachua to gain more details further.
According Chachua on July 23, 2012, at approximately 18:00 he met a stranger, who asked him to sit in a car. The journalist complied with the man and joined him and two other men in the car. Chachua was then verbally abused by the strangers, was shown video footage of his personal life and told him that they would release the video if Chachua would not obey their commands. The strange men explained they were from an agency and could both solve and cause problems for him.
The Ombudsman believes that the information Chachua provided is a violation of the criminal code and is calling on law enforcement bodies to investigate the case.