GYLA releases legal opinion on Maestro satellite seizure
By Salome Modebadze
Wednesday, August 1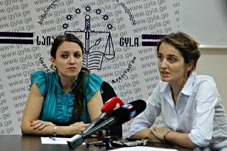 The Georgian Young Lawyers Association (GYLA) finds seizure of the Maestro-owned satellite dishes illegal. The statement released by the GYLA reads that the court decision about seizing the antennas not only contradicts existing state legislation, but also abuses the rights of free expression, and negatively affects the state of Georgian media and the pre-election environment.
Having studied Maestro's case, Natia Kapanadze, the Chairwoman of the GYLA's Georgian Media Legal Protection Centre, said on July 31 that the court verdict against Maestro TV is ungrounded. She found it doubtful why Maestro's property was considered "corruptive" and why it was seized– especially since the ungrounded seizure has restricted Maestro's right of ownership.
Kapanadze said the investigation about voter-bribing may last for 6 years, but the investigation studies the case of voter-bribing and does not refer to particular people. Thus, Studio Maestro did not have an opportunity to study the documentation and properly protect its right.
According to the investigation launched on June 20, 2012, the property of Global Contact Consulting (Global TV) and Studio Maestro have been seized. Both operations have no legal status, which deprives them of the right of getting information about the criminal cases.
The GYLA says that the court decision contains poor "theoretical and hypothetical" proof of Maestro's possible attempt to bribe the voters. Emphasizing that the state should be especially careful with media related issues, the GYLA uses the Georgian criminal process code to explain that the court is authorized to allow the search and/or seizure if evidence proves that the crime occurred. Otherwise, the investigation may violate freedom of speech, opinion, belief and the people's unity, which is protected under the Georgian Constitution.
According to the General Prosecutor's Office, it obtained authorization from the Tbilisi City Court to seize Maestro's satellite dishes and other technical items. Hence, an investigation was opened into the crime of vote-buying through the illegal distribution of satellite antennas, which were effectively free of charge-on behalf of the Georgian Dream, in exchange for their vote in the upcoming parliamentary elections.
Maestro TV's leadership has consistently denied any connection with the Georgian Dream leader Bidzina Ivanishvili. They explain that the company began the distribution of satellite dishes in the regions under the slogan "Maestro in every family" just to increase their coverage area all around the country.