Campaign helps untangle voters' list snafu
By Salome Modebadze
Wednesday, August 1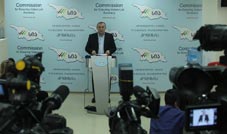 The state Commission for Ensuring Voters' List Accuracy presented the results of the door-to-door campaign on July 31. The campaign carried out between May 24 to July 15 showed that over 2.2 million voters out of an estimated 3.4 live at their address of registration while 25, 949 people were dead, 291, 871 live abroad, 132, 156 were removed from registration, 649, 839 live at a different address and 183, 321 were impossible to contact.
Emphasizing the importance of the door-to-door campaign, Parliamentary Chairman Davit Bakradze expressed his content with the commission activities in coordination with the NGOs, the public sector and international organizations. Hoping that this would put an end to the speculations about the accuracy of voters' lists, Bakradze called it a "large step forward" in terms of ensuring free and democratic elections in October.
EU Ambassador to Georgia, Philip Dimitrov, said it is not enough to just vote in the elections, you must realize that something in governance depends on you. He said that despair and apathy– the belief that nothing will ever change and there is no sense in voting, undermines democratic principles.
Christian-Democratic Movement (CDM) member Levan Vepkhvadze summarized the positive and negative sides of the door-to-door campaign. He said it has been the first attempt in the last 20 years to organize the voters' lists and we welcome the fact that the commission has worked "really well" despite the skeptics' opinions. But he said this list will only have sense at the election precincts.
However, at the same time, Vepkhvadze found the results embarrassing because of the high level of internal migration: people registered at one particular address and actually live at another. This causes great misunderstanding. Vepkhvadze worried that people lack responsibility and face the danger of becoming the subject of manipulation during the elections. But the Central Election Commission (CEC) Chairman, Zurab Kharatishvili, stressed that the only list used for the upcoming elections will be the one presented by Katsitadze's commission.
Just after the data from the state offices is added to the door-to-door results, the list will be delivered to the CEC, but the state commission will continue checking individual cases of the voters who have addressed the commission with particular problems. The final list of registered voters will be available by September 15.
Mamuka Katsitadze, the commission Chairman from the New Rights Party, called the door-to-door campaign an "innovative" method and emphasized that neither the Voters' League nor the Georgian Dream shared the results of their alternative campaigns. But calling yesterday's event a "government farce", the Voters' League plans to summarize the results of their alternative door-to-door today.