Christian Democrats hold meeting in Kakheti
By Ernest Petrosyan
Thursday, August 2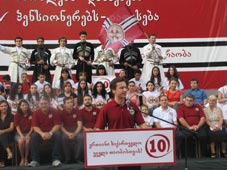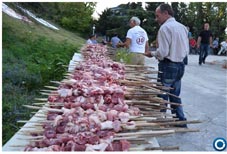 The leaders of the Christian Democrats Movement (CDM) held a meeting with their constituents as part of their pre-election campaign in Gurjaani, located in the Kakheti region, on July 31.
CDM leader, Giorgi Targamadze, as well as Inga Grigolia, George Akhvlediani and Magda Anikashvili, addressed their supporters by introducing a 10 point program to their voters.
"The disaster is not the only threat for Kakheti, the main threat for Kakheti is the negligence of Saakashvili's National Movement and his absolute irresponsibility, which destroyed all sectors of Georgia`s agriculture. The best example of this is Kakheti today, which is on the one hand, afraid of disaster, hail and bad weather and on the other hand, is afraid to have a good harvest, as they will have to throw it away. Today, every person is harvesting the result of the politics of Saakashvili and the National Movement, which was against the development of Georgian agriculture," remarked Targamadze.
Other leaders of the movement also addressed the crowd in Gurjaani. Inga Grigolia called on Saakashvili to resign from the post of the chairman of the ruling party and let the National Movement participate in the parliamentary elections independently.
The meeting indeed was not restricted to public speeches and the introduction of the program; according to the Kakheti information center, the CDM provided their constituents with barbeques, vegetables, bread and wine. Tables were spread for a thousand people.
The State Audit Office did not miss the event. According to the Agency Spokesperson, Pati Mamiashvili, the State Audit Agency will study the case of CDM hosting their voters with a "supra". Mamiashvili said that the agency would inquire about the details and consider whether it can be classified as voter bribery.
Levan Vepkhvadze the member of the CDM claims that party's supporters held the "supra" with their own expenses. "The issue of hosting is very relative. In this case, supporters hosted themselves. There were a number of our active supporters who offered to bring some food with them, so I offered them to jointly make barbeques. People brought meat with them and had barbeques," Vepkhvadze told
The Messenger
.