USAID Caucasus Mission Director Visits Civics Camp in Bazaleti
Monday, August 6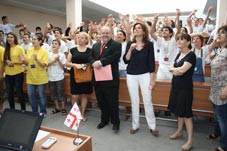 On August 3, USAID Caucasus Mission Director, Mr. Stephen Heykin, visited the Civics and Education Summer Camp at the Bazaleti Training Center. The third round of the civics education summer camp was held within the framework of the Applied Civic Education and Teacher Training Program (ACETT) implemented by PH International Georgia and funded by USAID. More than 80 participants are civics club students hailing from 11 regions in Georgia.
Stephen Heykin welcomed participants and spoke about USAID and its activities in Georgia. Heykin mentioned that this year the USA Embassy and USAID are celebrating 20 years of partnership with Georgia. Currently USAID funds 40 projects in Georgia to support the development of democracy in the country.
Civics club students shared information about the results of their activities and initiatives and asked questions about civics involvement of their peers and civics education in USA.
"I have heard a lot about your activities and I am happy to hear about the improvements you are making in your communities. We are proud to support that work through the ACETT program" said Heykin at the end of the meeting.
As the meeting concluded, participants of the camp sung a hymn, which they prepared especially for the event.