Sharp words for Saakashvili as Georgian Dream stops in Adjara
By Salome Modebadze
Tuesday, August 7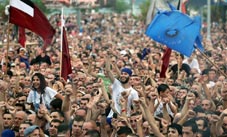 Georgian Dream leader Bidzina Ivanishvili held an election campaign in Batumi on August 5. "You deserve a country built on freedom, fairness and justice," he addressed the local population, while condemning the current regime for using "lies and defamation" as their main tool.
He denied the ruling United National Movement (UNM) accusations that suggested he was "sympathetic towards the Soviet Union, calling the accusations "lies." Comparing the Georgian government with "its Soviet ancestor" Ivanishvili said the existence of the Soviet mentality hinders modern society from development.
Ivanishvili said that although the government accuses him of attempting to bring Russia to Georgia, President Mikheil Saakashvili has already brought the Russian army onto Georgian territory "with his imprudent policy" and the occupied territories are living proof of that.
Promising to restore national justice, Ivanishvili said Georgia needs a lot of things nowadays but emphasized that the restoration of balance in the legal, economic and social spheres is paramount. Accusing the government of discriminating against its own population, Ivanishvili said the local population should have jobs in their homeland instead of earning money away from their country.
He said that the 8.5 billion USD invested in Georgia from 2003 is a huge amount of money which should have been used for new jobs for over 170, 000 citizens. But he said that the number of employed people had instead decreased with 150, 000 compared to 2003 because of misuse of invested money.
"We will change the labor code so that no employer may violate the rights of their employees," Ivanishvili promised. Emphasizing the specialty of Batumi for every Georgian he worried that the huge amount of money the government has spent on new construction could have served the welfare of the local population, not the "comfort and ambition" of President Saakashvili. He said it was possible to build the town without rudely changing its historical facade with "primitive, tasteless imitation."
Ivanishvili said the Georgian Dream would restore the function of Georgian villages as well. He pointed the fact that the villages have no roads, no water, no gas and many farmers live in poverty. Ivanishvili said that despite their hard labor, the Adjarian people have no relevant income and promised to find new sales markets together with returning Georgian products to the Russian market.
Accusing President Saakashvili in splitting Georgian society, the Georgian Dream leader said Saakashvili even caused confrontation among the clergy– not only in Georgia but even among the Georgian Diaspora abroad. He said if the so-called national TV companies "boast" with the priests who praise Saakashvili, they openly express aggression against the clergy who support the Georgian Dream. Discouraging this tendency, Ivanishvili promised to release the clergy from this political tension and vowed that the state would never interfere with the activities of the church.
On august 18 the Georgian Dream will hold its election campaign in Rustavi.