Russia's Kavkaz 2012 military exercises concern Tbilisi officials
By Ernest Petrosyan
Thursday, August 9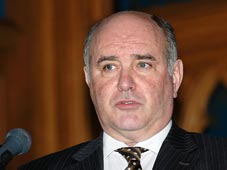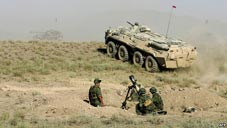 Russian Deputy Foreign Minister Gregory Karasin assumed that Georgian Special Forces entered the Gali district [mainly populated by ethnic Georgians] to deliberately terrorize the local population and destabilize situation.
"These actions are directed against members of law enforcement and against the local authorities– Georgia is trying to destabilize the situation in the Gali district," Karasin said in an interview with the Russian news agency RIA Novosti on August 8.
"It's an adequately tough assessment of this situation. This indicates that the revanchist scenario to restore [Georgia's] territorial integrity is still alive in the minds of the most zealous politicians in Tbilisi. This must be taken into account," said Karasin.
He also referred the pre-election situation in Georgia and Kavkaz 2012 drills, claiming of fear mongering about the threat from Russia. "Hysteria [among Georgian authorities] over the planned Russian military drills Kavkaz 2012, which was announced at the end of the last in 2011, onging almost a year, and Georigan authorities use as part of their "propaganda" against Russia ahead of parliamentary elections," said Karasin.
"There are outcries about Russia's plans to carry out aggression, to destroy Georgian statehood," he said, attributing it to Tbilisi's "propagandistic delirium".
Karasin claims that there are explanations about the drills and our intentions have been communicated multiple times by both our political leadership and Russian diplomats. We are ready to explain it again, reassuring people living in this region. But Tbilisi's propaganda works at full-speed and I am sure that in the next two months we will be hearing more accusations addressed to Moscow," Karasin said, adding that it will need some time to replace the "hysteria", "emotional" and "provocative" statements with "serious politics".
Deputy Chief of the Russian General Staff, Colonel General Alexander Postnikov, also said on August 7, that the Kavkaz-2012 planned military exercises in southern Russia "do not pose a threat to other countries or military blocs" and added that the drills would only take place on the territory of Russia without the involvement of military units based outside Russia.
Authorities in Tbilisi are worried about the planned large-scale exercises, fearing that Russia might be trying to increase tensions in the region and deploy forces that can be used to attack Georgia as it happened in 2008. Russia held large-scale military maneuvers (Kavkaz 2008) less than a month before the August War in 2008, which in turn resulted in a full-scale military intervention in Georgia.
President Saakashvili announced several times recently that the drills were intentionally timed by Russia to coincide with Georgia's parliamentary elections.
"It is not just a coincidence that our neighbor scheduled its large-scale military exercises for the second half of September, just several days before elections [in Georgia]. This timing is really not a coincidence," Saakashvili said in March. "All efforts will be undertaken to discredit these elections – on the one hand to intimidate Georgians through the use of force and on the other hand, to bribe Georgian voters with money from that very same country." Saakashvili stated.