US-based NGO lobbies for change in voter registration for emigrants
By Ernest Petrosyan
Friday, August 10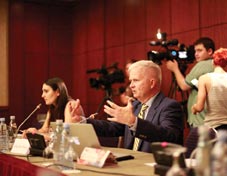 The Washington-based US election watchdog organization Capitol Links, hired by the Kiev-based non-profit organization Georgian Voice For Fair Elections, held a meeting with Georgian political analysts and civil society representatives to introduce the recent amendment of Georgian Foreign Ministry, which according to both organizations undermines voting rights of Georgian emigrants.
"We represent the Georgian Voice for Fair Elections to make it easier for the Georgian Diaspora living abroad to register and vote in elections. We are in Tbilisi to find out how we can make it easier in light of recent changes by the Foreign Minister to change the rules of registration which have had a negative effect on Georgian willingness to register overseas," said Greg Minjack, the Executive Director of Capitol Links told
The Messenger
.
"We think that the Georgian government does not need the information that they now ask for, so we are going to file a petition to ask them to change their decree to make it easier and not more difficult for people to exercise their constitutional rights," added Minjack.
Asked by analyst Nika Chitadze whether the recent amendment can be linked with the specific liabilities assumed by the Georgian government as a result of the signed treaty on readmission, Capitol Links representatives claimed that they had held a prior meeting with the EU representatives in Georgia, where they denied that they require the Georgian government to provide information about illegally residing Georgian emigrants.
"We met the EU and they confirmed what the understanding of what normal international law is, which is the government of the country in which emigrants come from cannot be responsible form policing its own emigrants. This is always the prerogative of the host government to determine the legality and illegality, and definitely not the prerogative of the Georgian government. The woman [EU representative] we talked to in the political section said that there is no conceivable expectation for the Georgian government reports on its own people, suspicious or otherwise. Although she could speak only for her home country, she said that there was not a conceivable situation where an official in her country would receive a list from the Georgian embassy about the people living in her country, especially under suspicious circumstances," noted Minjack.
Analyst Soso Tsintsadze believes that this amendment was not created inside the walls of the Georgian Foreign Ministry's building, but was created in the place where the UNM's victory is being planned. According to him it will cut off a significant number of voters from Diaspora, which is mainly oppositional. The analyst claims that when Georgian emigrants apply to the consulate for registration, they frequently are disgracefully cheated and told that the registration period has ended, whereas the registration deadline is due 21 days before the election date.