Georgia hosts Ukraine delegation on Black Sea Trade routes
By Messenger Staff
Monday, August 13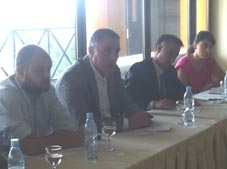 The International Chamber of Commerce Georgia hosted a Ukrainian delegation on July 10 to discuss issues of transportation facilitation between Ukraine and Georgia. The aim of the visit envisages the creation of a single window in the Black Sea ports in Odessa and Poti.
"We are more than happy to facilitate the Ukrainian delegation or business people wishing to visit Georgia in meeting government officials. By the same token it would be good if we also relate to our Ukrainian colleagues," the Chairman of International Chamber of Commerce Georgia, Fady Asly said.
According to the Head of Ukraine's State Customs Service, Alexander Fyodorov, the meeting is dedicated to trade relations– firstly to create and advance the processing model of goods and cargo, to quicken the process of cargo movement through the border, and to meet international standards.
"Taking into consideration Georgia's experience has gained over the recent years, we gathered for experience exchange and on the other hand, to coordinate the transportation routes we had in the Black Sea region, as both states are Black Sea Agreement members. Our countries are located on international trade routes, and taking into consideration the rapid economic growth in China and India and the movement of business processes there, Georgia is a good chain between East and West and Ukraine has very good potential in terms of transit," said Fyodorov.
The Ukrainian delegation also held meetings with Georgian government officials discussing the facilitation of cargo and goods transportation and the customs barriers which hinder trade relations.