Georgian officials meet with US Senator
By Gvantsa Gabekhadze
Monday, August 13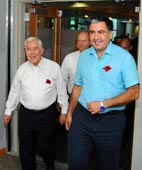 US Senator, Richard "Dick" Lugar, met with the President of Georgia and opposition representatives on August 12. Bilateral Georgian-American relations and election issues have been the chief topics of the meetings.
"Friendship and partnership with the Georgian people is precious for me," Lugar stated and thanked the Georgian President for giving his name to the Central Information Laboratory of Public Healthcare of Georgia.
According to him, the new laboratory has great potential to become a regional center within the observation, exploration, bio-security and security fields.
The President highlighted that the laboratory is one of the first and most significant American investments in Georgia.
"It is a strategically important object and represents long-term investment for our country. A new generation of Georgian scientists will be brought up here," Saakashvili stated and thanked Lugar for his support to Georgia.
Opposition representatives who met the senator claim that American officials will observe the post-election situation in Georgia.
"Everyone knows that violations occurring while the vote counting process is underway are unacceptable. The American side will observe how the votes are counted.
Overall, we have discussed the pre-election campaign, Russia's occupation and the importance of US support in the withdrawal of Russian troops from Georgian territory," Irakli Alasania, leader of Free Democrats said.
According to leader of the parliamentary minority Christian-Democratic Movement, Giorgi Targamadze, the monopoly [of power] in Georgian politics should be ended and the American side understands this.
"Everyone who is involved in politics knows that a single party ruling system is unacceptable," Targamadze said, adding that the US is carrying out long-term monitoring of Georgia's elections and hoped that the United States would perform a positive role in the upcoming parliamentary elections as well.