Cost of food increases
By Ernest Petrosyan
Tuesday, August 14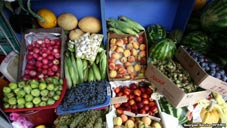 Over the recent month, the price of food has rapidly increased. For agricultural products the price increase can partially be attributed to the devastating disaster in Kakheti, and the Mtskheta-Mtianeti areas. However, the natural disaster's contribution to the price increase is only partial, as the price increase process followed the increase in international markets. There was a price increase on wheat and oil on the international markets, this trend involves sugar as well. This trend will likely affect price indexes and inflation.
The natural disaster in the Kakheti region devastated a significant part of the harvest of fruits and vegetables. Currently, the prices of agricultural products on the Tbilisi food market increased by about 10-15 percent. The price increase so far is mainly affecting peaches and watermelons. Market administration officials said that after the disaster, fruits and vegetables and their prices have increased on average of about 5-10%.
According to Levan Silagadze, Executive Director of the Wheat and Bread Product Producers' Association, before the major drought, Russia was the main supplier. However, in early July, after the wheat price increased considerably, Russian and Georgian companies began to buy wheat in Kazakhstan.
"Kazakhstan is relatively cheap, as they should empty their storages to replace them with the new wheat, which comes in September. This is quite normal during the import of wheat to Georgia," said Silagadze.
Kazakhstan's decision to carry out its wheat export only via Georgia also contributed to wheat supply stability.
Among other external factors, bolstering the price increase is also the world's oil price market. Over the past week, the fuel price in Georgia has increased by 5 tetri, said the Chairman of the Union of Oil Importerts, Vano Mtralashvili
"International prices began to rise in early July and this year is no exception. This is due to increasing demand for the tourist season."
Vano Mtvralashvili opposed these arguments to the public movement "Protest on Georgian fuel prices," but economists say that the fuel market reacts in accordance to the demand.
Sugar price has also increased considerably. According to the UN food organization, the price of sugar and other food products are still considerably less than they were during the same period last year. Moreover, there are trends on the price decrease on the world market for certain products. For example– items like pork meat and meat products in general.
Shota Murgulia, analyst of the Strategic Research and Development Center, explains that despite the external and internal factors which cause the price of food products to rise and fall, it is still possible to make adjustments during the inflation process.
"If a state manages the money supply well, then inflation will not happen," said Murgulia.
Shota Murgulia sees the risk of inflation in the pre-election activities, which are related to the expenditure of additional funds.
These processes are not yet recorded by the National Statistics Office. Geostat conducted a recent survey in mid-July, a time when prices were mostly still intact. The Head of Geostat, Zaza Chelidze, said that higher food prices will appear in August. "Presumably inflation will last until the end of the year."