Youth branch of Georgian Dream kept from festivities
By Ernest Petrosyan
Wednesday, August 15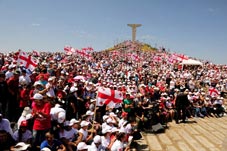 United National Movement has monopolized the celebration of national holidays, using them successfully in their pre-election campaign, meanwhile giving directions to police not let other party's members and supporters into the celebration area.
Georgian Police blocked the road to the youth movement affiliated with the Georgian Dream coalition who attempted to pass the procession of United National Movement Supporters during the national holiday Didgoroba, in Didgory Valley on Sunday August 12.
According to the police, Georgian Dream supporters were not among the invited, and so they did not allow them to participate in the national holiday Didgoroba. The policemen claimed that they were responsible for separation of the sides to avoid possible incidents. In the video recorded by Info 9, the policeman openly says that there was a UNM event, the youth would be able enter after the UNM leave the territory.
However, biased police is not the only tool the UNM uses against its main political rival. At the road entrance leading to Didgori Valley, several drunken women dressed provocatively and wearing the Georgian Dream T-shirts, were demonstratively stating that Ivanishvili paid them GEL100 per hour. "I am paid GEL 100 per hour, and that's why I am standing here, and I will put on any other shirt and stay some other place if someone else will pay me," said one of them.
"This is absolute provocation. They are drunk and do not know anybody from the Georgian Dream at all. This is a provocation and the responsibility is imposed to President Saakashvili," said one of the Georgian Dream youth leaders.
The Georgian Dream youth movement was able to enter the territory just after the president and the UNM left the event.