Georgian Dream officials meet with diplomats, NGO representatives
By Messenger Staff
Wednesday, August 15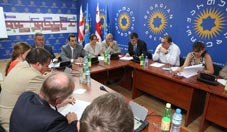 Leaders of the Georgian Dream Coalition met with foreign diplomats accredited in Georgia on Monday. The meeting was attended by ambassadors, NGO representatives and NDI Senior Resident Country Director in Georgia, Luis Navarro. The major topic of discussion was the upcoming parliamentary elections, the pre-election environment and the overall political situation in Georgia.
"We talked about the election environment. Today's meeting was very successful. We are going to keep on providing information to the representatives of the embassies of our friends from other countries and we are expecting adequate reactions from them," Irakli Alasania, one of the leaders of the coalition announced after the meeting.
Alasania reiterated that the authorities have an ample wish to rig the elections, but the coalition will protect each vote of their electorate. According to him, in order for the elections to be fair, international monitors should observe the process. "We are very grateful for the monitoring mission of the OSCE and other organizations who have come to Georgia. However, it is not enough and we expect more monitors. The current administration has a great wish to rig the elections, but we will do our best to protect each vote of our supporters," Alasania stated.
The coalition has highlighted some violation facts during the meeting with diplomats. Firstly, they emphasized how local government and the administration have tried to make the Georgian Dream's meetings with the local population in different regions of Georgia fail. The coalition showed some videos where those violations and confrontations between the two side's representatives were evident. Coalition leaders also talked about recent fines totalling in excess of several millions– specifically those levied at Bidzina Ivanishvili and Kakhi Kaladze. "Saakashvili is afraid to hold elections in a fair environment," Alasania concluded, adding that overall the meeting was fruitful and that he expects quick reactions and responses from the diplomatic corp.