Shukvani to sue in international court
By Messenger Staff
Wednesday, August 15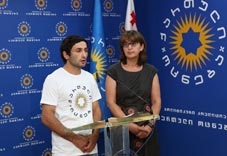 After an unsuccessful performance at the London Olympic Games, Georgian judo wrestler Betkil Shukvani returned to Georgia and held a briefing at the Georgian Dream office on August 2, stating that members of the Georgian Delegation were threatening him after he expressed his support for the Georgian Dream coalition leader, Bidzina Ivanishvili.
"It was already decided that I was going to the Olympics, they couldn't change anything. On July 22, I met with Bidzina Ivanishvili, took a picture with him and declared my support for him, that I had sympathies towards him and that I am with the Georgian nation," he explained.
Information about the meeting spread. Shukvani explained that when they were going to the Olympics at the airport, members of the Georgian delegation addressed him with obscene words.
"I was psychologically distracted. I tried to stay strong mentally and I achieved this, I was in good shape," Shukvani said. However, he says that during his performance, the referee was biased and did not make a fair decision regarding him. He addressed the Minister of Sport Lado Vardzelashvili to respond to the unbiased dereference, but he never gave him an answer.
Shukvani states he then decided to leave London and return to Georgia after he was threatened by Gia Udesiani, who was a member of the Georgian delegation there.
"I was advised not to meet him and I left. One of my friends lives in Croatia and I asked him for help in buying a ticket. He booked the ticket, told me the address where to arrive and I left," Shukvani told the media.
Shukvani decided to return in Tbilisi as soon as the games finished and he is going to sue in international court from London. "I will struggle for justice and I will make it clear what is going on in Georgian sports," Shukvani's statement reads.
The allegations were responded to by the Ministry of Sports. Davit Namgalauri, Deputy Minister, says that the allegations are lie and added that Shukvani tried to disgrace the whole delegation.
"I was there at that time and I heard a lot of lies regarding the Betki Shukvani related story and that there was pressure exerted against him. Everything he says is a lie and I'll say this everywhere I will have the possibility. The one they said exerted pressure against him didn't have the right to enter the Olympic village at all and he was not even waiting outside. The vicinity was protected and the drunken would not easily enter or leave. I don't know what forced Shukvani to invent so many lies and disgrace us", Namgalauri said.
He says that there were no grounds to appeal Shukvani's defeat and Judo specialists will confirm this.
"Nobody should believe that anyone after this sportsman himself wanted his victory more than us. Shukvani lost the fight in the last 5 seconds. I don't understand? What do we have to appeal? A lot of judo specialists will say why he was defeated, what really happened and whether there was anything to protest. That day, our delegation expected a medal from him," the deputy Minister said.