Alasania making waves in western Georgia
By Messenger Staff
Thursday, August 16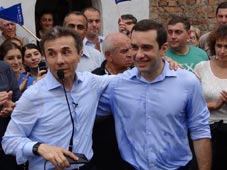 Yesterday, the leader of the Georgian Dream Coalition, Bidzina Ivanishvili, presented Zugdidi majoritarian candidate– Irakli Alasania, leader of Our Georgia-Free Democrats. Alasania's party is one of the parties that make up the coalition. Since the beginning of this election campaign, he has moved to Zugdidi, in the Samegrelo region where he was holding regular meetings with locals.
Ivanishvili characterized Alasania as a man of "good biography" adding that Alasania was fighting in the Abkhazian war along with his father and he is very well aware of the local residents' problems.
"During a very hard period [2008 Russian-Georgian War] this man was standing in UN Tribunal, defending Georgia's interests. He is an excellent diplomat," Ivanishvili said.
"The authorities do not like free people. However, we will give back freedom to our people, so get prepared for the victory," Ivanishvili told a crowd in Zugdidi. According to him, the pre-election campaign and meetings with locals showed that the coalition has a large number of supporters in the Samegrelo region.
It is not known as of yet who will be Alasania's opponent from the ruling National Movement. According to some, Chief Prosecutor of the Samegrelo region Roland Akhalaia, who is the father of Interior Minister Bacho Akhalaia and Deputy Defense Minister Data Akhalaia, might be the ruling party's selected candidate.