Georgian settlements in Tskhinvali demolished by Ossetian regime
By Ernest Petrosyan
Thursday, August 16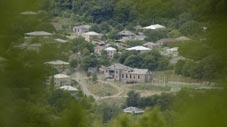 The de-facto South Ossetian regime plans to rename and completely demolish villages in northern Tskhinvali abandoned during August 2008 that were originally and mainly settled by Georgians. According to the President of breakaway South Ossetia, Leonid Tibilov, the ruined buildings will be completely demolished and industrial and agricultural centers will be built in their place. The decision concerns eight villages including Tamarasheni, Kurta, Kekhvi and Achabeti.
"These territories will no longer exist as populated areas. After three-four years, you will not even recognize these villages. A new micro-region, Moskovski, has been constructed in Tamarasheni. We did not touch the Kekhvi church. However, I can say that most of the houses have been demolished here," Tibilov said.
The puppet regime will not maintain the village names either. "These areas will be allocated for housing so that these names do not need to be preserved, as the settlements will not be there any longer," said Tibilov.
The Georgian enclave used to abut Tskhinvali. The last house on the street of Tskhinvali was immediately the Georgian houses of Tamarasheni village. Overall, eight settlements, the largest ones– Kurta, Khevi, Achabeti and Tamarasheni– were located along the Trans-Caucasian highway.
The Chairman of the Parliamentary of the European Integration Committee, MP David Darchiashvili, assessed the decision as another step in the process of occupation and annexation.
"This is a concrete demonstration of the occupation and annexation by the Russian Federation," said Darchiashvili. According to Darchiashvili, despite the fact that this act violates international law, it is a humanitarian evil. "Sooner or later, everything will be over and the criminals will take responsibility," noted Darchiashvili, adding that the Georgian side will continue to fight by diplomatic means in order to end the occupation of Georgian territories.
The demolition of Georgian villages in South Ossetia/Tskhinvali, is the continuation of [Russia's] ethnic cleansing policy, said Deputy Foreign Minister, Sergi Kapanadze.
"It is very important that all the responsibility falls not just on the puppet regime, but also on Moscow. Moscow is the occupier, and it controls the whole process taking place in the occupied regions today. Therefore, if this is implemented, the entire responsibility for this rests on the Russian side," said Kapanadze.
He added that the ministry has informed the international community, as well as the co-chairs of Geneva talks. "We are expecting a response from them," said Kapanadze.
Dimitry Sanakoev, the head of the pro-Georgian Provisional Administrative Entity of South Ossetia, as well as member of the Georgian delegation in the Geneva talks also ties this initiative to the Kremlin.
"Firstly it violates the main principles of international law. Secondly, it jeopardizes the Geneva talks, in the framework of which, we inter alia discuss the issues of a dignified return of IDPs, and this statement proves once again that the Geneva talks becoming gradually more senseless," Sanakoev told
The Messenger
.