Things are 'all roses' in Rustavi
By Ernest Petrosyan
Friday, August 17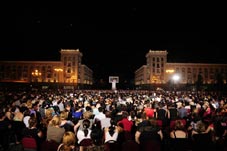 President Mikheil Saakashvili held a meeting with Rustavi residents within the framework of the United National Movement pre-election campaign on August 15.
At the meeting, President Saakashvili reviewed the country's progress with regard to economic, industrial and infrastructure development.
"When we talk about the city, some say this government has created a virtual reality, it only happens on TV and nothing is changed in reality. I remember well Rustavi eight-years ago; I remember where we were then and where we are today, my friends," Saakashvili addressed the public.
"I want to simply remind you that the water was supplied once in four days. Today, with the exception of one district, where there is a four-hour schedule, with each of you, there is basically a 24 hour water supply. This is virtual reality? Of course not, this is the reality of Rustavi."
The president also talked about the ruined roads and promised Rustavi residents to build a new highway linking Tbilisi and Rustavi, which according to him, will reduce travel time down to 7 minutes.
"I remember the road here and how long it took us to get here. Now the city's main highways are all in the best condition and this fall, every yard, every route leading to your block building will be as perfect as it is in Europe," remarked Saakashvili
"Today we launched a historic case: the Tbilisi–Rustavi highway construction, after which, the distance from Rustavi to Tbilisi will be covered in just 7 minutes," said Saakashvili.
Saakashvili also talked about sports and recreation areas. "A swimming pool was recently opened, similar [pools] cannot be found even in Tbilisi's downtown, but it is being built now," said Saakashvili.
Concluding his address, the president presented the majoritarian candidate from the UNM in Rustavi. "Finally, I have the privilege to present your candidate, Mamuka Chikovani. His parents and wife are form Rustavi, and he is the biggest patriot here," said Saakashvili.