President Saakashvili assists with Bagrati cross raising ceremony
By Messenger Staff
Monday, August 20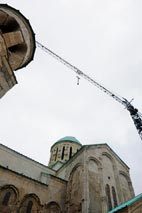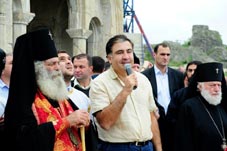 The President of Georgia participated in the cross raising ceremony held at Bagrati Church with the Kutaisian Archbishop Kalistrate. Saakashvili personally stood on the dome and helped place the 300 kg, 2.14 meter cross with the workers.
The president addressed the audience and noted that restoring Bagrati Church is the beginning of the unification of Georgia. The Head of State thanked the Bishop for the care he had been giving the church during its reconstruction. According to Saakashvili, the next one to open will be Poti Church. The president also noted that the exact model of the destroyed Georgian national cultural monument and a symbol of holiness– the Bani Church will soon be built in Lazika. The President of Georgia stressed that the ongoing rehabilitation of the country belongs to everyone and this process marks the beginning of the golden age for Georgia.
"This temple was destroyed by Russian artillery and in other our churches, the frescos were whitewashed. There are times for scattering stones and times for collecting them. Today the time has come for building. We must restore everything, we must construct everything and this is not the property of any political party, it belongs to all of Georgia, politicians, non-politicians, worshippers and atheists. Bagrati is the symbol of a unified Georgia," Saakashvili said.
The cross erected on the dome of Kutaisi will be seen from all central spots of Kutaisi.
The renovation process of Bagrati started in 2009. Its process was suspended in June upon the request of Catholicos-Patriarch Ilia II. The statement released by the Georgian Patriarchate on June 18 said that the rehabilitation being carried out on this "world important cultural and historic monument" is a "rude violation" of the draft project previously arranged with the Ministry of Culture and Monument Protection and the Scientific Council of the Patriarchate.
The Patriarchate demanded the
de-montage
of the metal construction attached to one of the sides of the temple so that restoration of the temple would not exceed the framework of the initial agreement.
Art critics and experts were more worried about the possible loss of the temple's authenticity after the rehabilitation explaining that Bagrati Cathedral does not need restoration but rather conservation. They fear that otherwise, the church will lose its historic importance on the list of monuments protected by UNESCO. "What's happening at Bagrati Temple nowadays has been considered as wrong in many countries," architect Nestan Tatarashvili said, explaining that the cathedral would look like an absolutely new, non-traditional monument after its restoration.
It is notable that the Catholicos-Patriarch of all Georgia did not attend the ceremony.