Rabat Castle renovations come to a close
Monday, August 20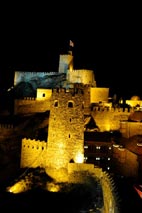 On August 17, the newly renovated Rabat Castle was opened in Akhaltsikhe. The ceremony was attended by thousands of guests from throughout Georgia's regions.
The city castle, which is often called the symbol of tolerance, occupies around 7 hectares and was returned to its original appearance. A church, mosque, minaret, synagogue, as well as Jaqelebi Palace, a historic museum, old baths and a citadel, have been restored on the territory of Rabat Castle.
Georgia's President, Mikheil Saakashvili, walked around the renovated city-castle with the prime minister, toured the restored buildings, and spoke to the local residents about the importance of the place. The president noted that the restored castle will attract a lot of tourists, which should help improve the economic conditions of the local people. He also talked about other projects and pointed out that the restoration of Gori Castle will begin shortly after Rabat.
While touching on the issue of tourism development, the president also emphasized the role of the youth in this process, explaining that they should be next in continuing the process of rehabilitation and building in the country. However, Saakashvili pointed out that the most important task for the country is overcoming poverty.
The ceremony was concluded with a concert of a famous French(Armenian origin) singer, actor and public activists, Charles Aznavour.