Number Seven for Georgian Dream under Question
By Gvantsa Gabekhadze
Tuesday, August 21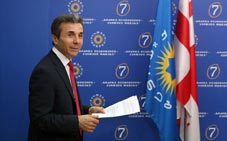 Opposition coalition Georgian Dream is facing problems concerning the use of the number seven as its ballot number. A statement concerning this issue was made by representatives of the coalition, Zviad Dzidziguri and Sozar Subari, on August 20.
According to Dzidziguri and Subari, the Central Election Commission (CEC) will not let the Georgian Dream coalition use the number seven as their ballet number. The number seven was the Conservative Party's ballet number in the previous parliamentary elections in 2008 and the party has retained the right to use the number again in this year's elections. Georgian Dream has been carrying out its election campaign with the number seven; Georgian Dream campaign advisors thought they had the right to use the number seven since the Conservative Party is part of the Georgian Dream coalition.
Dzidziguri and Subari have already met the chair of the CEC, Zurab Kharatishvili, to discuss this matter.
The Central Election Commission claims all the parties that make up the Georgian Dream coalition need to have participated in the 2008 parliamentary elections for Georgian Dream to take the number of one of its coalition members. If this prerequisite is not fulfilled the coalition will have to take some other number.
The CEC cites items of article 119 of the election code: "In case if an election block is created by those political parties which took part in the last elections the parties should clearly indicate in the block's rules which party's number they intend to use. All other political subjects' numbers will be revealed through sortition (the drawing of lots)." the CEC statement reads.
The head of the Elections and Political Technologies Research Centre, Kakha Kakhishvili, states that if the CEC does not enable the coalition the use of the number seven it would be a political decision.
"It was the same situation in 2010 during the municipal elections when the CEC enabled different political blocks to choose numbers. Currently, the CEC interprets the article so as not to give the number to Georgian Dream." Kakhishvili stated.
According to the chair of Young Lawyers' Association, Tamar Chugoshvili, the article named by the Central Election Commission is obscure and enables the CEC to interpret it as it wishes. "Currently, the CEC makes a narrow definition which is not in the interests of the Georgian Dream coalition." Chugoshvili suggested.
Chairperson of Transparency International Georgia, Eka Gigauri, thinks that the CEC has a legal basis for making such a decision. "However due to the obscurity of the article named by the CEC they can take Georgian Dream's interests into consideration and let it use the number, especially since the party has already carried out some activities with the number seven which were related to campaign expenses." Gigauri stated.