Ballot Number Controversy Continues
By Gvantsa Gabekhadze
Wednesday, August 22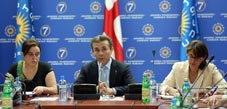 Speculation concerning the ballot number of the coalition Georgian Dream continues. Based on the decision made by the Central Election Commission (CEC) late on August 20th the coalition will have to take part in the parliamentary elections with the ballot number 41, which is the last number on the ballot list. The coalition intends to appeal the decision in the civil courts.
On August 20th the CEC refused the opposition coalition the use of the number 7 as their ballot number in the upcoming parliamentary elections. The Conservative Party, currently part of the Georgian Dream coalition, used the number 7 in the previous parliamentary elections in 2008 and had retained the right to use the number again in this year's elections. Georgian Dream representatives claim the coalition had the legal right to use the ballot number of one of its member parties as the ballot number for the entire coalition. Moreover the coalition was already carrying out its pre- election campaign with the number 7.
The CEC stated that all parties of the coalition must have taken part in the 2008 parliamentary elections for the coalition to have the right to take the number of one of its member parties. Thus the CEC assigned the ballot number 41 to the coalition as all previous numbers have already been selected by various other political parties.
According to various NGO's (GYLA, Transparency International Georgia, Elections and Political Technologies Research Centre) the article which was cited by the CEC as the reason for the decision is obscure and might be interpreted differently, especially considering that during the 2008-2010 elections the CEC did not behave in a similar fashion.
The leader of the Georgian Dream coalition Bidzina Ivanishvili stressed that the decision imposes a financial loss on the coalition as various materials printed with the number seven on them have already been made. "We will have to throw those things out as they will be useless."
Ivanishvili emphasized that the CEC decision indicates the desperation of the current government which is fighting against the coalition with all permitted or prohibited means available.
"However we will get the same result with the number 41 as we would have with the number 7. Despite the fact we have financial problems we will win anyway," Ivanishvili stated.
The coalition leader also said that they will wait for the court decision and only after the decision will they act with the old or the new ballot number.
The United National Movement sees the coalition at fault in the situation and calls the CEC decision just.
"I am sure the issue could have been settled in the coalition's favor if the coalition had followed the correct legal procedures, therefore they only have themselves to blame." Vice Speaker of the Parliament, Gigi Tsereteli stated and added that if there is some controversy regarding the issue the court will resolve it.