Baramidze named majoritarian candidate for Batumi
By Salome Modebadze
Wednesday, August 22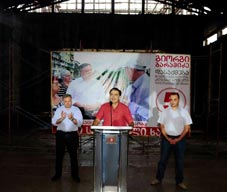 "We have two alternatives: either to build or destroy." Georgian president Mikheil Saakashvili said on Monday. Introducing the former Vice Prime Minister Giorgi Baramidze as the ruling United National Movement (UNM) majoritarian candidate for Batumi Saakashvili spoke of him as "an example of patriotism" and his "closest political companion and friend" he emphasized that it was Baramidze who brought him to the political arena in the 1990s.
"I do not doubt that we will win," said the president adding that his team should have a "brilliant victory."
Saakashvili said that the UNM has built the country from ruins and those who want to return it to ruins have nothing to do in Georgia. He said Baramidze has never compromised during these years and has done a lot of things to transform Georgia into a better country.
Saakashvili visited the streets of Batumi which have not been rehabilitated yet to show Baramidze the challenges the town will face in next four years for improving Batumi.
Recollecting how "hopeless, poor, scared and without prospects" Batumi was when he became President, Saakashvili expressed his pride with the city and called it "the business card" of Georgia.
Promising that there will be no huts in Batumi, President Saakashvili said the town will become a centre of business and development. "Each family should see the benefit from everything that is going on in this country," he said admitting that there is still great poverty in Georgia.
Saakashvili said it does not matter who opposes his team because those people who have done everything to hinder Adjara's development are still trying to get elected to government office.
Political analyst Soso Tsiskarishvili thinks that the President has started engaging "the heavy artillery" from his team for the election struggle. "There are still a lot of [UNM members] to be replaced," Tsiskarishvili said referring to Baramidze and doubted that his former position will be given to a person not familiar with the European Union and NATO.
The analyst also told
The Messenger
that during the campaign Baramidze will primarily talk about the rehabilitation of the seaside town carried out by the ruling party.