Saakashvili Discusses Long Term Prospects of Georgia's Youth
By Salome Modebadze
Thursday, August 23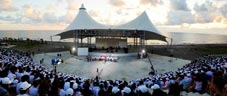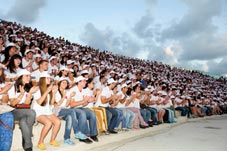 "I have not come here today to promote any political party but as President I want to tell you that the fate of our country is being decided now." Georgian President Mikheil Saakashvili addressed the participants of the Summer Job program in Anaklia on August 21st.
Describing these students as the "bright future of the country" President Saakashvili told them not to let anybody else decide their future. He encouraged the students to take part in the upcoming parliamentary elections and vote on October 1st. If they didn't vote he said they would regret their inactivity for the next 70 or 80 years.
"For me you represent our nation," he told the students, promising to build a new democratic country for them. He said that perhaps these youths were born in a difficult period for Georgia but they will live and develop in a stable, democratic country.
Saakashvili said that many of these students will vote the first time this October but some of them may even have an opportunity to run for office as the minimum age of MPs has decreased to 21.
Saakashvili called it an important step forward that the UNM will have several 21-year old election participants in their election list this year.
Saakashvili mentioned to his audience that his time as a student coincided with the breakup of the Soviet Union and thus he has seen a lot of changes. "I know the value of liberty, but I have seen a lot of misery [too]," Saakashvili said referring to the civil war, internal confrontation, foreign invasion, ethnic cleansing and others.
Saakashvili admonished his audience to not allow "their enemy's dream" to be fulfilled, a veiled allusion to the main opposition party Georgian Dream. The President added that Georgia should not compromise its freedom on behalf of any "externally dictated" political party or a figure.
Praising the Summers Jobs Program Saakashvili said the ruling United National Movement (UNM) does everything for the younger generation so that they will have a better life and spoke of the benefits students will receive beginning in the next academic school year.
He said more students will have financial support to study abroad or attend summer schools. He added that high school students will have an opportunity to take exams anytime during the year and the state grants for undergraduate studies will increase.
The president said that as the country moves towards international standards everyone should know foreign languages to increase their job prospects. He also said that the hundreds of foreign professors will be invited to the country in the next year while their Georgian colleagues will improve their qualifications abroad.
The summer jobs program initiated by President Saakashvili lasted from July 20th to August 20th. 2012. Over 24 000 undergraduate students received 500 GEL by working at one of 70 possible jobs at 17 state and 106 private companies.
But having monitored the pre-election processes from January to March of this year the Georgian Young Lawyers' Association (GYLA) said the universities registered certain students with their desired jobs and provided the Ministry of Education and Science with a preliminary list while other students waiting for official registration remained frustrated.
Moreover GYLA's report says that the logo of the program looks like the UNM ballot number five so that the public may identify the program with the ruling party.