Removal of historic tower brews controversy
By Anna Robakidze
Monday, August 27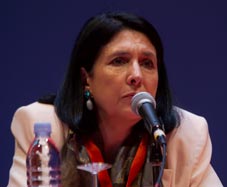 Part of the monument known as Niko Nikoladze Tower, which is located in Poti and enjoys historic heritage status, may be removed according to the rehabilitation project of the town.
Nukri Tugushi, the chief architect of the project, commented that that particular section of the monument can be taken down if there is a need for extra space while reconstructing the surrounding area.
"This is just an attachment to the monument built in the Soviet-era in the 1970s. Therefore we have considered the possibility of taking it down in order to have a larger space and better recreation in the surrounding area." He also confirmed that the right wing of the building, which is scheduled to be taken down, also shares the status of historic monument.
The status of the monument, which is related to famous Georgian publicist and political figure Niko Nikoladzse, has turned out to be quite controversial. According to historic sources, the monument was originally a fortress built by the Turks in the 16th century. The monument is mentioned in the books written by missionaries Arcangelo Lamberti and Jan Sharden.
According to Director of the Museum of Culture, Elene Gabliani, it is incorrect to claim that the fortress was built in 1970s, as it was only reconstructed in this period.
The fortress changed its face between 1894 and 1912, while Niko Nikoladze conducted his public and social activities in Poti.
The Granddaughter of Niko Nikoladze, Salome Zourabichvili, who is also the ex-minister of Foreign Affairs of Georgia and one of the representatives of the current opposition in the country, commented on the possible removal of Nikoladze Tower via her Facebook page. "They are going to take down the tower in order to reconstruct the church and the town…All this is done in order to make the name of Niko Nikoladze totally disappear…. they want to [destroy] the whole unique personality of a European, a true "builder" and a Georgian activist". She also feels that the removal of this tower can be simply a political move on behalf of the government.