Legitimacy of survey results questioned by opposition
By Gvantsa Gabekhadze
Monday, August 27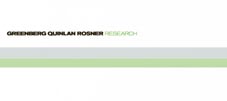 The poll commissioned through the United National Movement and held by the U.S.-based research and strategic consulting firm Greenberg Quinlan Rosner (GQR), revealed that the UNM has a significant lead over the Georgian Dream opposition coalition.
The survey was conducted in early August and 1,500 people were questioned. Based on the survey, 55% intend to support the National Movement in the upcoming parliamentary elections and 33% intend to support the Georgian Dream coalition. Thus, the organization predicts that throughout Georgia the UNM will receive 46% support while the Georgian Dream will receive only 24%.
As for the rest of the opposition parties, the Christian-Democratic Movement (CDM) and New Rights Party have 5% and 3% support according to the survey and the Labour Party 1%.
It should be noted that throughout the survey 69% of the people who were questioned expect elections to be held in a free election environment and the current president's actions in this regard are assessed positively by 73%. The survey also indicated that a large proportion of the sample survey is satisfied with the current Georgian political course and do not wish it to be changed.
The Penn Schoen Berland (PSB) was commissioned by an Ivanishvili affiliated organization, and it provided different results. According to the polling which was conducted in the first half of July, the Georgian Dream had 42% and the ruling party 41% among 1,980 perspective voters.
PSB used a secret ballot method where voters were asked to mark a paper ballot on the question of their political preferences and thus their responses were not known for the interviewers until they were opened. PSB also underscored that 16% of the questioned refused to state their political sympathies and the organization supposed that many of that 16% might be supporters of the opposition.
Such a claim was dismissed by GQR, which argued that while in 2008 and 2010 elections, the votes of this category of people were mainly directed to the UNM. As for the privilege of the secret ballot system, GQR provided a different explanation. GQR said that as an experiment, half of the respondents were asked to indicate their vote preference via a secret ballot, but it produced no statistically significant difference in the vote margin between those questioned verbally and those who responded through the secret system.
The outcomes, which are profitable for the United National Movement party, have been immediately criticized by opposition representatives.
"The survey reads such results the United National Movement wants to have. We will not comment on the survey which was conduced by the National Movement," Maia Panjikidze, spokesperson of the coalition Georgian Dream said.
Practically the same assessment was given by the parliamentary minority Christian-Democratic movement, which called the survey part of the ruling party's pre-election campaign.
"It is part of the National Movement's pre-election propaganda and of course we don't trust the survey," CDM majoritarian candidate of the movement, Inga Grigolia said.
Chair of the Elections and Political Technologies Research Centre, Kakha Kakhishvili, states that "with such kinds of surveys, the United National Movement is trying to influence voters who are still hesitating," Kakhishvili said and emphasized that he does not believe in the survey outcome and gave the argument why. "People are frightened. I can not think on even the most impartial organization which would carry out research in Georgia and would get real outcomes. If any organization conducted such a survey in the Soviet period 100% of the questioned would have responded that they did not want dissolution of the Soviet Union."