Live debates for Prime Minister to be held on September 9
By Anna Robakidze
Thursday, August 30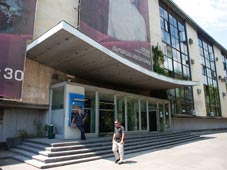 "The Public Broadcaster is ready to televise live debates between the candidates for the Prime Minister's post," this offer was made by Gia Chanturia, General Director of the Public Broadcaster on August 29th. Official invitations were sent to the parties today, which they should accept or decline no later than 6 pm, September 4.
According to the Election Code of Georgia's Article 51, only the following parties are allowed to participate in TV debates: UNM, Georgian Dream Coalition, Labour Party and the Christian-Democratic Movement.
In total, two live debates have been scheduled. The first one will be held on September 9 between the candidates for prime minister post and the second debate, on September 18, between the number one on the candidates' list of the same parties.
The debates will be conducted according the rules worked out by the International Foundation for Electoral Systems (IFES), an organization which has worked in over 135 countries to supports citizens' rights to participate in free and fair elections. The rules have been published on an official page of GPB.
The Georgian Public Broadcaster is also ready to provide any kind of support the debating sides may need and also provide information on how debates should be conducted and what methodologies should be used.
Only two parties– the UNM and the Christian-Democratic Movement have confirmed their readiness for live debates thus far.
Chiora Taktakishvili, UNM's press speaker, announced that their party will be represented by Vano Merabishvili, the candidate for prime-minister and David Bakradze. "The UNM is more than happy to take part in the debates, as this will help the audience become more informed and make the correct choices during the elections," she says.
Taktakishvili also addressed opponents with a query to consider the high interest of society and not to reject a chance to conduct live debates.
Levan Vefkvadze, one of the leaders of the CDM also welcomed the live debates with other candidates, "this is a great chance to reveal the differences between the political parties more vividly for the audience…"
The UNM was the party who suggested the live debates on the Public Broadcaster. However, the Georgian Dream Coalition and Labour Party still have to make a statement whether they are going to participate in the planned debates or not.