Details of Georgian special operation on Russian border remain murky
By Salome Modebadze
Thursday, August 30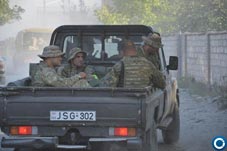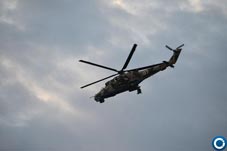 Two officers of the Ministry of Internal Affairs (MIA), a military doctor of the Ministry of Defense and 11 members of an armed group were killed at Lopota ravine located at the Georgian-Russian border. In addition 5 officers were wounded while trying detaining the six saboteurs during the anti-terrorist operation carried out by the MIA on August 29.
Georgian media reports that the armed group detected at Dagestan section of the Georgian-Russian border, had captured a small group of hostages, five of which were young men from Laparkuri village in Kakheti.
Leri Khutsurauli, Levan Garashvili, Besik Mijikhkashvili, Tato Ghagholashvili and Tamaz Gamierashvili said over fifteen armed men captured them and threatened that they would kill them if they attempted to escape.
Prime Minister Vano Merabishvili in cooperation with the Ministry of Interior Affairs, the Ministry of Justice and the Ministry of Defense, developed a coordinated interagency plan of action aimed at neutralizing the armed group in the ravine. The Lopota ravine was blocked by the units of the ministry. The MIA said the armed group refused to surrender.
Some local people think that this operation might be a play staged by the United National Movement (UNM) and used as a PR stunt. Shota Lomashvili, local resident, told the Kakheti Information Centre that after terrorizing several nearby villages, the Georgian government moved to Lapankuri. He said no kidnappers exist, but the Georgian government was attempting to scare local people before the upcoming parliamentary elections.
Davit Darchiashvili, chairman of the Parliamentary Committee on European Integration, spoke of the North Caucasus as a "zone of instability and conflict." He said the agression of the Russian government towards Georgia raises suspicions that this is a provocation backed by the Russian special services to cause destabilization in Georgia. "However, our law enforcement teams can stop such provocation no such intentions can be fulfilled," he stated.
UNM MP Nugzar Tsiklauri said the murder of Dagstan's religious leader on August 28 brought the situation out of control. Tsiklauri said it is difficult to identify the men involved at this stage, which is why he found it hard to connect the situation in Dagestan and Georgia. "They have illegally crossed the Georgian border, captured Georgian citizens and the Georgian MIA and the state act as it should," Tsiklauri said.
Analyst of Caucasus issues, Mamuka Areshidze, spoke of the danger of the "operation" at Lopota ravine doubting that the Georgian MIA would have started such a large special operation just for finding the lost men.
But Parliamentary chairman Davit Bakradze encouraged everyone to keep calm because the Georgian armed forces, police and the government would protect the safety of the citizens despite any problem or challenges.
The operation at the ravine continued throughout the day.
The Messenger
will provide all the latest news as soon as official information is available. Many questions remain unanswered.