Election code violations still a problem in Georgia
By Anna Robakidze
Monday, September 3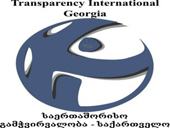 Transparency International Georgia continues to monitor the current election campaign in the country. The organization revealed a number of violations of the Election Code and hopes that the issue will be addressed by the responsible institutions in the country. ITG published another report on the current situation, revealing facts of serious code violations.
The organization focused on the following main problems: Public officers illegally participating in election campaigns; bribery; unlawful use of administrative resources for the election campaign and the violation of regulations for publishing campaign materials.
The organization claims that Vaja Makharadze, the governor of the village of Dvabzu, was distributing the campaign material of UNM during his work hours. In Bakhmaro, police officers in the town were wearing T-shirts emblazoned with the UNM logo– this is considered to be campaigning. According to the Election code, employees of the Ministry of Internal Affairs cannot participate in election campaign.
Transparency International also emphasizes the number of bribery cases that have been revealed, which is not only a violation of Georgia's Election Code but also the country's Criminal Code.
Using administrative resources for election campaign is still an issue. TI reports that some road construction workers in the Khelvachauri region wore the UNM t-shirts while doing their job as well. The roads are being reconstructed within the framework of "Village Project" funded by the government. Such activities are a violation of the law, as the election code of the country prohibits using projects funded by the government for an election campaign.
There have also been a number of facts revealed when regulations for publishing campaigning materials have been violated. This is mainly regarding UNM posters, which have been placed on the walls of several administration buildings in the country.
Unlawful use of administrative resources has been an ongoing problem.
As the spokesperson of UNM Chiora Taktakishvili commented earlier, the changes made to the Election Code back in December were an answer to the recommendation issued by various International Organizations. The changes aimed to make it clear and list in detail, what type of actions are considered to be the illegal use of administrative resources. The Inter-agency Commission, which was created for monitoring the performance of election regulations in Georgia, has also issued a number of important recommendations.
It is worth to mention that the memorandum signed by CEC, together with seven local NGOs and the Inter-agency Commission of the Security Council, provided a detailed interpretation on Articles 45, 48 and 49 of the Election Code of Georgia, which regulates ways of using administrative sources during the election campaign.
Transparency International of Georgia welcomes the steps taken by the CEC and the Inter-agency Commission, but still hopes that other problems reported will be dealt with by the Central Election Commission and also from the Prosecutors' Office accordingly.