New health insurance program underway
By Salome Modebadze
Monday, September 3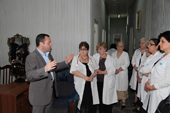 The new state insurance went into effect on September 1. Minister of Labor, Health and Social Affairs (MOH) Zurab Tchiaberashvili said that the Georgian government aims at ensuring citizens universal accessibility for medical services. He said that is why the hospitals all over the country have been renewed.
The new insurance is designed for pensioners, children between the ages of 0 – 5, students and people with disabilities, but Tchiaberashvili promised that this circle will increase so that everyone in the country will have healthcare insurance in several years.
Expressing his gratitude to the doctors and nurses who were mobilized to assist the patients, Tchiaberashvili said even the Ministry worked in an emergency regime for the last two weeks, confident that the number of people visiting the medical institutions would be high.
Over 2.4 million people have the state insurance now. "It is a very difficult process," Tchiaberashvili said on Friday, stressing that the MOH would deal with the high number of patients.
Minister Tchiaberashvili visited medical clinics in order to monitor how the patients were treated with their state insurance. The minister said earlier at a press conference that over 300 specially trained people will watch over the situation at every medical institution to identify the problems and drawbacks.
The new state insurance initiated by President Mikheil Saakashvili earlier this year will cover emergency services, professional consultations, ambulance treatment, diagnostics, planned or urgent surgery, as well as other hospital service expenses.
Christian-Democratic Movement (CDM) member Magda Anikashvili criticized the state insurance system. Anikashvili said the new policy neither refunds the medicine nor the medical services which the poor families need nowadays, as most of their pension covers the communal expenses.
But Minister Tchiaberashvili stressed that the new state insurance covers many medical services, calling insurance "the best way to be protected."
Tchiaberashvili reminded the public not to forget their identification cards and insurance policies while visiting the doctors.