Baghaturia: talks stall but cooperation will continue
By Anna Robakidze
Tuesday, September 4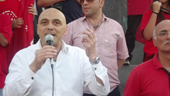 Negotiations between Jondi Baghaturia, leader of the Georgian Troup and Bidzina Ivanishvili, the leader of Georgian Dream, started back in July. However, the talks have not reached any conclusion yet.
According to Georgian Dream spokesperson Maia Panjikidze, "it is a fact that the cooperation between Georgian Dream and Jondi Bahgaturia has failed." Furthermore, the list of candidates from the Georgian Dream has already been forwarded to the Central Election Commission (CEC) so there will not be any further talks with other parties.
Panjikidze confirmed that several meetings were held with Jondi Baghaturia. However, he still did not appear on the list of the coalition.
Bahgaturia held a press conference on September 3rd where he spoke about the consultations with Ivanishvili's coalition. According his comments there is a person who is trying to make sure that the negotiations fail. Baghaturia refrained from making the name of this person public, "if Ivanishvili wants, he can reveal the name" he said.
It is not a secret that Jondi Baghaturia was offered to be the 10th on list of Georgian Dream, but it appears he has refused to join the coalition and the list was forwarded to the CEC without his name on it.
Baghaturia and representatives of Georgian Dream met three times only. The last meeting was held back in July, and the next planned meeting for August 2rd, failed due to unknown circumstances.
"We do not seem to [be able to] build up a coalition," Baghaturia says. "However, we will do our best to become good partners and defeat Saakashvili together." He refused to reveal all the details, but mentioned that mediators can also be blamed for the unsuccessful negotiations, as they used to provide inaccurate information to both sides, which had a negative impact on talks.
The most important issue for Baghaturia is to avoid confrontation between opposition parties and to make sure the United National Movement (UNM) losses the elections. He finds it quite possible for his party to support the Georgian Dream candidates in some regions– for example Irakli Aalasania, in Zugdidi.
"It is not necessary to build up one common list…" The leader of Georgian Troup is confident that the parties can easily co-operate even with having their own separate lists for the elections.
In an interview, Baghaturia also commented on the possible ending of negotiations with the Georgian Dream Coalition. He is not going to end talks with the coalition and his hopes for future cooperation with Georgian Dream and other opposition parties in the country.