Ambassadorial Conference reflects Georgia's international support
By Salome Modebadze
Wednesday, September 5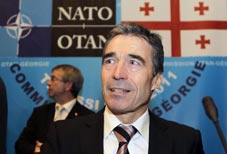 NATO Secretary General Anders Fogh Rasmussen, foreign ministers from Argentina, Sweden, Poland, and Fiji and United States Senators John McCain and Joe Lieberman, will attend the annual Ambassadorial Conference as special guests on September 5-7.
By gathering the representatives of Georgia's diplomatic missions under one roof in Tbilisi, the Ambassadorial hosts high-level meetings which focus on the key goals, tasks and priorities for the following year.
Alexander Nalbandov, Ambassador of Georgia to Slovenia and Slovakia, said that the Ambassadorial gives them an opportunity to receive first-hand information about the processes going on in Georgia, receive updates on Georgia's foreign policy, and the opportunity to share problems and find solution.
Foreign Minister of Fiji, Ratu Inoke Kubuabola, held a closed door meeting with Minister of Foreign Affairs of Georgia, Grigol Vashadze on Sunday. Having arrived in Georgia for the first time, Kubuabola told the media earlier that day that at the Ambassadorial he will talk about the upcoming parliamentary elections. "I am glad to be in your amazing country to meet my colleagues and better familiarize myself with the country," he stated.
The Swedish Foreign Ministry informed that the Foreign Minister of Sweden Carl Bildt and his Polish counterpart Radoslaw Sikorski will meet President Saakashvili, as well as representatives from the opposition parties. "The situation in Georgia ahead of the parliamentary elections, regional issues and relations between Georgia and the EU will be the focus of talks," the Ministry said on September 3.
Vakhtang Khmaladze, a political analyst and majoritarian candidate of the Georgian Dream, told The Messenger that such meetings provide the opposition a chance to inform foreign high-ranking officials about the election environment in Georgia.
According to Georgian MFA diplomats, Georgia's foreign priorities and goals, as well as other economic, humanitarian and cultural issues will be discussed during the conference. Georgia's territorial integrity and sovereignty, the process of integration into Euro-Atlantic institutions, bilateral and multi-lateral relations are also planned to be discussed during the Ambassadorial.
Georgian Deputy Foreign Minister Davit Jalagania said the visit of "such high-ranking guests" expresses great support towards Georgia's territorial integrity, sovereignty, and the priorities of Georgia's foreign policy.
Calling it a "visit of solidarity" towards Georgian people, analyst Vasil Kacharava said the visit by the two US senators sends a message from the US that they are watching over the situation in Georgia.