Georgian Video Artist's Exhibition Well-Received
By Etuna Tsotniashvili
Friday, September 7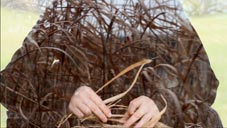 The Georgian National Museum hosted Irina Gabiani's video art exhibition "Unknown world" on Wednesday. Gabiani, a leading Georgian visual artist, presented 17 video art pieces themed around the universe and the meaning of existence. In her works Gabiani questions the connections and similarities between the human body and the universe. To prove and show that everything is interconnected she uses images of the human vein system that strongly resemble river systems on the earth's surface or the branches of trees. "The universe gives us those similarities, we just need to look carefully to see and reveal them," she says. It quickly becomes clear to any observer after viewing her work that the artist tries to show those issues in a very individual and interesting way.
"I have been working in video art for a long time. All my life I have seen life as screen shots and eventually I decided to create video performances," Gabiani told the Messenger.
The artist's family members have an important place in her work. She takes photos and videos of her husband Ivan and daughter Nicole.
"I have to say that we enjoy working with her as we are participating in the creative process." Ivan Adorno, Irina's husband says. "Video art is probably the most commonly practiced art nowadays. It is very direct and it shows and conveys deep messages and emotions," he told
The Messenger
adding that he welcomes other Georgians to get involved in this sphere and make video art more popular in Georgia.
Irina Gabiani's videos have traveled across the world as part of many important festivals and have been viewed in 18 countries. The audience enjoyed the show and praised the artist.
The exhibition will last till September 9th at the Georgian National Museum.