Georgia Has the Right to Decide Its Political Affiliation
By Messenger Staff
Friday, September 14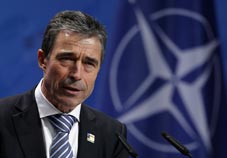 In his recent interview with Euronews NATO Secretary-General Anders Fogh Rasmussen spoke about the planned military exercises by Russia later this month, stating that Russia has not provided any detailed information to NATO about the exercises.
The journalist interviewing Rasmussen stressed the fact that the Russian military exercises are to be held near the Russian-Georgian border, coinciding with the Georgian parliamentary elections on October 1st.
"We are not opposed to the exercises but we request transparency as a confidence building measure: what is the purpose of the exercise, where does it take place, how will this exercise be conducted? We have not received any formal information from Russia, which we strongly regret. " Rasmussen said.
The NATO Secretary-General has reiterated support for Georgia's aspiration to become a member of the alliance. NATO's possible enlargement is still on the agenda.
"We stick to a very fundamental principle to which all nations in the Euro-Atlantic area signed in 1999 in an OSCE charter. That fundamental principle is that each individual nation has a right to decide its alliance affiliation itself. I hope Russia also sticks to that. So it's for Georgia to decide. And Georgia has declared that it is a Georgian aspiration [to join NATO]. And in 2008 NATO decided at a summit in Bucharest that Georgia will become a member of NATO, of course provided that Georgia fulfills the necessary criteria," the NATO Secretary-General said.