Fair and Free Elections Vitally Important for Georgia
By Salome Modebadze
Friday, September 14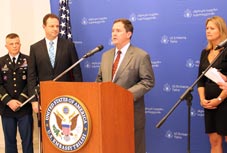 "We do not favor any particular party or candidate, and look forward to continued close cooperation with the leaders the Georgian people choose," the United States Deputy Assistant Secretary of State (DAS) Thomas O. Melia said, emphasizing that the U.S. supports the Georgian people's aspirations for a free and fair democratic process.
"We remind all parties that after October 1st, they will need to work together constructively in the new parliament to advance Georgia's democratic and economic development, and they should conduct their campaigns in that spirit," he said stressing the importance of a "democratic electoral process that results in a parliament which reflects the will of the Georgian people."
Summarizing the three-day visit to Georgia on September 12th, DAS Melia said the US interagency delegation urged Georgian officials to implement Georgia's electoral laws in a fair, impartial, and transparent manner and also urged all political parties to fully participate in the process while abiding by the law. "The message that we have conveyed privately to the various stakeholders has been identical," Melia stated.
Stating that the political environment should ensure full participation of all the parties on equal terms Melia said despite the recent shortcomings the competitive campaign is underway in Georgia.
"The long-term work of building a vibrant democracy is not over on Election Day," Melia said, stressing that an equal playing field, rule of law, due process, respect for fundamental freedoms, media access and constructive engagement are essential principles of the election process.
Domestic and international perceptions of fairness in the election environment, including adherence to the rule of law, media access, transparency, and fair play in the adjudication of disputes, were emphasized as "important indicators" of Georgia's democratic development. According to DAS Melia the upcoming elections will also be important in terms of Georgia's Euro-Atlantic aspirations.
During meetings with the Georgian government and political parties the US delegation stressed the importance of ensuring that campaign and election laws are applied equally and transparently, and that all participants are held to the same high standards of conduct as spelled out in Georgian law. They urged political parties to participate constructively, follow the law scrupulously, and to pursue their political goals at the ballot box.
Calling the respect for peaceful protests and freedom of assembly "a hallmark of democratic society" Melia encouraged all the parties to renounce violence and avoid provocations. He also hoped that the police will be scrupulously professional so that "the Election Day and its immediate aftermath will unfold peacefully."
Commending the work of domestic and international observation groups, including the OSCE/ODIHR, Melia said it would help ensure international standards of transparency and consistency in the election process and its results will reflect the will of the Georgian people.