Georgia joins world leaders pledging to end preventable child deaths
Monday, September 17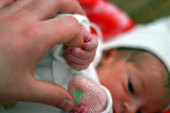 Georgia joined a major global campaign on child survival:
Committing to Child Survival: A Promise Renewed
by signing a pledge with other World's Governments to end preventable child deaths. The Minister of Labour, Health and Social Affairs of Georgia Mr Zurab Tchiaberashvili, signed up the pledge and renewed commitments to ensure every child in Georgia has the best possible start in life.
Countries across the world are making rapid progress in reducing child deaths, demonstrating that it is possible to radically reduce child mortality over the span of two decades. A UNICEF 2012 Progress Report on
Committing to Child Survival: A Promise Renewed
examines trends in child mortality estimates since 1990, and shows that major reductions have been made in under-five mortality rates in all regions and diverse countries. Data released today by UNICEF and the UN Inter-agency Group for Child Mortality Estimation show that the number of children under the age of five dying globally fell from nearly 12 million in 1990 to an estimated 6.9 million in 2011.The report underscores that neither a country's regional affiliation nor economic status need be a barrier to reducing child deaths.
Georgia is among the countries with declining trends in child mortality. Since 1999, the mortality rate of children under the age of five has dropped by two-thirds - from 45 deaths per 1,000 live births to 16 in 2010. According to the 2010 Reproductive Health Survey, there is a significant decline in infant mortality statistics: 41.6 per 1,000 live births in 1999, 21.1 in 2005 and 14.1 in 2010.
"The Government of Georgia has made enormous strides in reducing child mortality and this is commendable", said Sascha Graumann, UNICEF Representative in Georgia. "We welcome Georgia's renewed commitments to end preventable child deaths. Further reduction of neonatal mortality must become a top priority for the public health system in Georgia and UNICEF will continue to support the Government in these efforts", added Graumann.
58 per cent of child deaths under the age of five occur in the first four weeks of a baby's life. The three most common causes of infants' deaths are: premature labour, breathing problems, and infections/pneumonia. These causes are closely related to the health of the mother during her pregnancy, the circumstances of her delivery and the first critical hours after birth.
In order to address the above issues the Ministry of Labour, Health and Social Affairs, UNICEF and the Reproductive Health Council are partnering with the Sheba Medical Centre of Israel to strengthen the system for provision of maternal and child care within the framework of the Georgia
Perinatal System Strengthening Master Plan
. The Master Plan stems out of the Georgia National Health Care Strategy 2011-2015. Aiming at strengthening the perinatal system in Georgia for the next 10-15 years, the document directly responds to one of the objectives of the strategy (Access to quality maternal and child health services) and ensures that every child has the best possible start in life.