Georgian emigrants in UK hold rally
Tuesday, September 18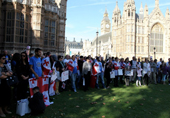 On Sunday, Georgian emigrants held a rally in London to support the Georgian Dream coalition. The rally was joined by Director Keti Dolidze and actress Nineli Chankvetadze and Ghia Maisashvili, leader of the Future party from Georgia.
"We know that there comes a time when we all return our dignity. Unfortunately, many people from Georgia have been forced to leave own country, but our mind is in Georgia and the only reason why we are abroad is to preserve the dignity of our families. We should create an environment where our education, knowledge and experiences will be praised in Georgia. The time is approaching!" the letter reads.
The letter states that the emigrants believe that the Georgian Dream will return justice to the country and release businesses from pressure, free the media and make their orientation to the West.
"Two weeks remain before the elections. The choice is in our hands. We are also responsible to protect our votes," the letter says, appealing to all emigrants to go to the election districts and vote for Georgia's future.