Music: Dato Archvade's new album aims to please the senses
By Salome Modebadze
Wednesday, September 19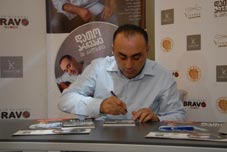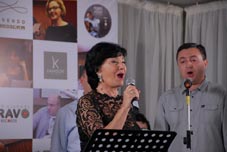 Dato Archvade, a soloist belonging to the musical ensemble Georgian Voices (Kartuli Khmebi) issued his first musical album as a composer under the Bravo Records' label. The album, consisting of Archvadze's 15 musical compositions, was performed for an audience of friends and invited guests at Kabadoni Hotel in Sighnaghi on September 15.
Expressing his gratitude to the Hotel Kabadoni Vivendo Club, the Tbilisi Centre of Cultural Events and other partners for their support, Archvadze said his stylistically diverse compositions come from his heart and are filled with love.
The Messenger
also received "a kind message" from the composer as a signature on his debut album.
Sighnaghi, also known as the "city of love", provided a cozy environment, as Archvadze and his friends performed new and old songs from his album named after Gia Jokhadze's text entitled
This is Town
.
Jokhadze's text is now accompanied by Archvadze's music and Kartuli Khmebi performs a song written about Tbilisi with Nani Bregvadze. The author of the text recollected that this song was written as a result of his anger towards a "declarative toast" which sounded like I love Tbilisi. "And I decided to write something special," Jokhadze told
The Messenger
.
Calling Bregvadze "a unique Georgian star," he said the moments of working on the song were unforgettable.
Nani Bregvadze found the song very melodic and easy to remember. Welcoming the live performance she wished the young generations would never sing under the phonogram.
Maka Bliadze's several texts also took their place in Arcvadze's album. Bliadze said that although her texts are older, time could not damage them and maybe even made them better. "Probably this is what we call poetry when every performer fits the texts to their own emotions," she told
The Messenger
.
Bravo Records' first discovery– Tamta Tskhvitava, also performs one of Archvadze's songs based on famous Georgian poet Vazha-Pshavela's text. Confident in the success of the debut album, Tskhvitava said the song she performs is "mystic."
Zaza Shengelia, the President of Bravo Records, the first Western-type musical company in Georgia, said Dato is "a very special representative of the generation of young composers" who has united a very good team around his debut album." Bravo Records unites the music recording studio, publishing house and the record label and provides musicians' efficient career management and controls the copyrights in and out of Georgia.
At the end of this month
This is Town
will be hosted by Archvadze's beloved capital of Tbilisi.