The Congress of European Constitutional Courts will be held in Batumi
Wednesday, September 19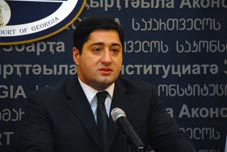 On 11-12th September, 2012 the XVI Congress of the Conference of European Constitutional Courts Preparatory Meeting – Circle of Presidents was held in Vienna, Austria, where on the basis of voting the unprecedented decision was made - Batumi will host the XVII Congress of European Constitutional Courts .
The Conference of European Constitutional Courts, which was established in 1972, brings together representatives of 40 European constitutional or equivalent courts conducting a constitutional review.
The Conference organizes congresses at regular intervals. It promotes the exchange of information among its members on issues relating to the methods and practice of constitutional review and provides a forum for the participants to share opinions on institutional, structural and practical problems in the areas of public law and constitutional jurisdiction. Besides, it takes measures to strengthen the independence of constitutional courts as an essential element of the guarantee and implementation of democracy and a state under the rule of law and pays particular attention to the protection of human rights. It strongly supports the improvement of lasting relations between European constitutional courts and similar institutions.
It should be noted that since 1972 after Lithuania Georgia has been the first former Soviet, a non-EU member state to hold the Congress. In 2014, after the President of the Austrian Constitutional Court the President of the Constitutional Court of Georgia Mr. George Papuashvili will chair the Congress. Consequently, in 2014-2017, all the high-level events including the Congress of the European Constitutional Courts will be held in Batumi.
The decision, which was adopted on the basis of voting and not on the basis of rotation underlines the fact that the Constitutional Court established itself on the international scene and achieved great eminence as a body of constitutional justice. Otherwise it would be impossible to gain the honor of holding the Congress, taking into consideration that the Congress has not been conducted not only outside the EU, but also in many EU member countries.
It is also noteworthy that the decision highlights that Georgia is considered to be the country of a stable democracy in the region; country's ongoing legal reforms are positively assessed by the European courts. It is also important that the Congress will be held in Batumi, which means that the city with its convenient geographic location, developing infrastructure, historical and legal traditions has readiness for hosting the XVII Congress of the Conference of European Constitutional Courts.