Meetings reveals economic plans of Georgian Dream
Wednesday, September 19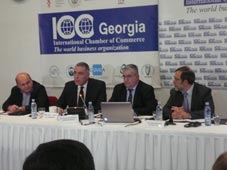 The International chamber of commerce in Georgia (ICC) continues its series of meetings with the representatives of parties participating in the elections and listening to their presentation of their individual economic programs. The project is carried out with the support of EU representation in Georgia. About a week ago the Christian democratic movement (CDM) presented its economic program. On September 18, the EU and the ICC hosted representatives of the Georgian Dream coalition and members of their economic team– professors David Onoprishvili and Nodar Khaduri.
In his introductory speech, chairman of the ICC of Georgia, Fady Asly, highlighted the necessity of such a dialogue, which means closer cooperation between business and politics. EU representative, Ambassador Philip Dimitrov spoke about the achievements of Georgia within the economic sphere and underscored the necessity of continuing to move forward.
Coalition representative David Onoprishvili presented the major points of the Georgian Dream's economic program. The points included competitiveness, the creation of a fair market economic environment, distinct separation of private business and state involvement, elimination of the unbalanced export and import figures, and the creation of friendly conditions for producing export items.
He spoke about the coalition's plans to improve the healthcare system, take care of social issues, and improve the insurance system. Onoprishvili particularly stressed the importance of introducing a new system of supporting and promoting agriculture, providing technical and financial support for the farmers, facilitating low-interest rate credit and job creation through increasing business opportunities. He also spoke about setting realistic tariffs for utility services which according to him have been artificially increased.
Onoprishvili also cited a fair court system, which would be established as soon as the coalition comes to power. Taxation policy should also be improved, as well as fiscal policy. Overall, the strategy is to create many business opportunities that eventually lead to the creation of jobs and improve the overall welfare of the population. The audience consisted of businessmen and the diplomatic corp. Journalists attentively followed the presentation and asked numerous questions.