Some voice displeasure over Public Broadcaster's coverage of prison scandal
By Salome Modebadze
Thursday, September 20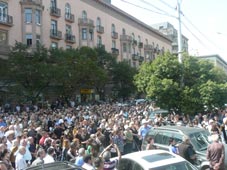 "We will not stop!" yelled the students, who were protesting the incident of torture that occurred at the Gldani penitentiary facility. Stressing they would fight against violations in Georgia, they demanded protection of law and the punishment of high-ranking officials who stand behind the recent prison scandal.
Demanding a meeting with Gia Chanturia, general director of the Georgian Public Broadcaster (GPB) the youths said the channel did not air enough footage about the situation in the prison like Maestro and TV9 did on Tuesday night. They said GPB is financed by the public and is responsible for covering everything so that people in every region can feel the injustice of the penitentiary system.
But Chanturia thinks that the GPB has covered the incident of torturing prisoners in the highest professional and objective way. He explained to media.ge that when Maestro TV and TV9 released the footage, GPB was hosting the political debates. "But GPB was shooting all the demonstration in the capital," Chanturia said, adding that Wednesday's news programs were quite diverse in terms of the covering of this news.
Chanturia said it is not important to only show that "horrific footage" but include follow-up stories, which he said GPB has ensured. "We protect all the standards we are obliged to," he stated.
Journalist of GPB Eka Kvesitadze found the students' demands quite adequate towards the public broadcaster, stressing the GPB should be intensively covering the problems which trouble the citizens.
Student self-governments also expressed their solidarity with the students. Tbilisi State University's self-government chairman Dachi Gubadze said everyone responsible for the violations should be punished.
Later students moved to the Moduli building of MIA demanding the resignation of the Minister of Internal Affairs (MIA) Bacho Akhalaia. Although Khatuna Kalmakhelidze was removed from the position as Minister of Corrections and Legal Assistance, the students think she was just a "small bolt' of the system created by President Mikheil Saakashvili and Akhalaia who previously served as Head of the Penitentiary Department of the Ministry of Justice of Georgia.